CAROLEE SCHNEEMANN is an internationally recognized multidisciplinary artist, one of the main players in the feminist art movement of the 1960s and 70s. She lives in upstate New York but keeps a studio in Montreal.
She is perhaps best known for her 1975 performance Interior Scroll, where she stood naked on a table and painted her naked body with mud. She struck several poses while reading aloud from a paper scroll as she slowly extracted it from her vagina.

Carolee Schneemann, Interior Scroll, 1975. Image: caroleeschneemann.com

"I thought of the vagina in many ways– physically, conceptually: as a sculptural form, an architectural referent, the sources of sacred knowledge, ecstasy, birth passage, transformation. I saw the vagina as…enlivened by it's passage from the visible to the invisible, a spiraled coil ringed with the shape of desire and generative mysteries, attributes of both female and male sexual power." – Carolee Schneemann
The exhibition Breaking Borders runs at the Museum of Contemporary Canadian Art, Toronto until April 22nd.
VoCA:When you spoke at MoCCA lat year, I was struck by something that you said: That you realized that there was no choice but to perform Interior Scroll (1975) – once you came up with the idea, you knew that you would have to perform it, despite the fact that it was such an unusual idea.
Carolee Schneemann: There's a conducive voice that's a part of the artistic process; if you want the drawing to mean anything, you have to do it. There was an unconscious voice telling me what I had to do – the next thing I knew I was folding the paper. Then the rigor of the engineering began – there was no way to do it without the paper breaking so I set about preparing the paper.
How did you prepare the paper?
Oh, that's a family secret. (Laughs) One day I'll publish a crazy book on it…anyway they do it constantly, researchers interview me, and other artists have re-created the performance.
When you were starting out as an artist, who were your influences?
Joan Mitchell. I saw the stroke as an event in time and space, which led me to Velazquez and Cezanne, the breaking up of the formal plane. Cezanne structured Abstract Expressionism for me. And then there was the full body energy of Pollock, the energy of dynamic forms put in space.

Joan Mitchell, Untitled, circa 1956. Image: uky.edu

Paul Cezanne, Mont Sainte-Victoire, 1885-87. Image: dbeveridge.web
Kaprow, Oldenburg and Jim Dine also were influences. Dine had a psychodynamic (performance) piece where he sat in a chair, wearing a bathrobe and talked about his fears. This was very controversial, because it went against the traditional hierarchy of the male.

Jim Dine performing The Smiling Workman, 1959. Image: comm.unt.edu
Of course, there was also Stan Brakhage and my partner (composer) Jim Tenney, which led me to the chance compositions of John Cage.
At the time, I was reading de Beauvoir, Artaud and Wilhelm Reich, which had a great impact on me.
In your current show at MoCCA, I really liked the cat photographs, Infinity Kisses (1981-88). It's great how it seems like quite an ordinary scene – a woman and her cat – but you have created a very strong and challenging artwork. How important is it for use to use your status as a woman to engage in "unacceptable" behavior?

Carolee Schneemann, Four Kisses and Detail (Vesper's Pool), 2002. Image: ppowgallery.com
I don't think about it at all. I just examine what's in the daily realm – I needed to see what the kisses looked like, since they felt so wonderful. It was eight years of work with my first cat, who then died of a rat bite. But he was the original, he had an expressive determination. He was reincarnated, the second cat, Vesper, kissed too. So there was another eight years of work on this series. Then the San Francisco MoMA purchased the work – 168 images – for their collection. But I didn't think that anyone would have been interested.
So it's serendipitous. I get things sent to me, for (the video installation) Devour for instance, friends were sending me images. It is a set of formal concentrations and the challenge is in how to bring the ideas forward most comprehensibly.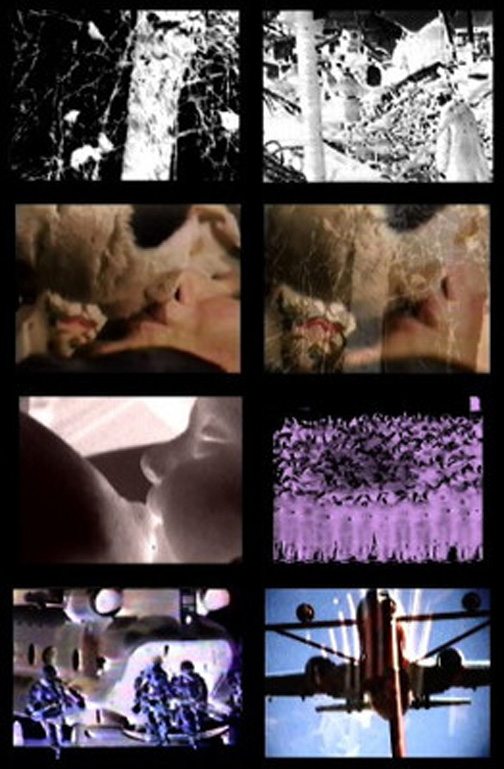 Carolee Schneemann, Devour, 2003-2004. Image: elgawimmer.com
All the images in Devour are manipulated and combined together. There is an intensive selectivity, I concentrate on building a vocabulary. I'm constructing a language.
This kind of work has to be deeply engaged with resistant material.
How has the fact that you are so well known for certain works – Meat Joy 1964, Interior Scroll 1975 – affected your subsequent work?
It didn't have to do with it. Anyway at the time, they weren't so well known! Meat Joy was, I suppose but there is always a time lag and a fracture. The work will flash in the moment but then I have to go home and get a job. so the mythology of the culture is at a distance from my ordinary life.

Carolee Schneemann, Meat Joy, 1964. Image: caroleeschneemann.com
Feminist art is seen as a "movement" whose heyday was the 1970s. What do you think of this and how do you see feminist art today?
For me, feminism starts with Paleolithic shards. I began as a protofeminist. I worked with objects that I decided were by women and that had been assigned to men. I reinvented the history before there was a feminist history.
My war work – I get very upset watching Viet Flakes (a seven-minute film about the Vietnam war made in 1965), for example. And the Yugoslavia images are very disturbing to me. The couple in that image was shot – they were deliberately picked off. And I had noticed that in one image the girl had her legs spread apart and there was a run in her tights.
I work hot. I am not a cool worker.
In a recent issue of ARTnews, critic/historian Linda Nochlin refers to many "feminist" artists and she refers to the work of British sculptor Rachel Whiteread, who I have never really considered as particularly feminist. She also says that she sometimes goes to a show "of a woman artist who is interested in gender issues, or who doesn't even know she's interested in them." Is all art by women necessarily feminist art?
Gender is always significant but various. I know of dealers today who tell young women artists not to use the "F-word" because it will compromise their work.

Rachel Whiteread, untitled (Stacks), 1999. Image: artfacts.net
You're right about bracketing feminist work in the 1970s, women had to define their work apart from male definitions, women had to work with men. The level of exploration couldn't be shared with men who lacked introspection and had a lot of guilt about the exclusion of women.
I fought for pronouns – all the pronouns were male. Women upturned the inherited research on what had shaped history.
Were there any men who were dealing with this?
In the Victorian era, there were men, male cultural historians and the like who made note of the oversight in terms other than art history. My early work was fought for by male artists – that's why I described myself as a "cunt mascot" – the men let a few women in to recognize their achievement.
I was being celebrated mostly by poets, while their wives were cleaning up cigarette butts and baking cookies.
Now everything has completely changed. It has become a new hot thing. (Feminism) is still bracketed but hierarchies are being broken down. Women's work that was ignored in the past will now be valued. It won't be anonymous gilded pages that no one knows were made by nuns, it will be extraordinary work by artists who were nuns.