Andreas Gursky, Chicago Board of Trade II, 1999. Image: matthewmarks.com
Jerry Saltz's recent article on German photographer Andreas Gursky in New York magazine (Read it HERE) illustrates a few issues that VoCA has been musing over lately:
1. Art as investment is extremely vulnerable to fashion. Gursky was (is) an extremely popular artist – his work photograph 99 Cent II Diptychon, a digitally-enhanced God's-eye view of a discount store, was made is 2001 and sold last year for almost three million dollars, the highest price paid for a work by a living photographer. It was one from an edition of six. But with this article – by one of America's most influential critics – casting doubt on his work, he may well come to be perceived as 'boring' by collectors.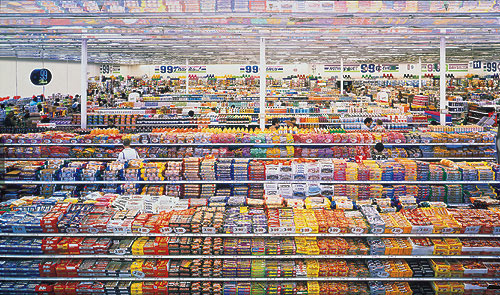 Andreas Gursky, 99 Cent II Diptychon, 2001. Image: photofacts.nl

99 Cent II Diptychon, at auction. Image: thecityreview.com
2. It is often said (by many, including VoCA) that art holds little intrinsic value. And yet the best art reveals layers of meaning and ultimately gets at a universal concern. In other words, great art is about humanity. Artists from Michelangelo to Warhol have – consciously or not – addressed issues that all viewers can – consciously or not – relate to.
It's easy to get caught up in the hype surrounding contemporary art. In retrospect, advances in printing and digital photography have produced a glut of mediocre large format colour photography. Bigger is not necessarily better, in fact it now looks rather dated.
All the more reason to:
1. Buy what you love
2. Do your due diligence and research
3. Get to know a consultant whom you trust – before buying art.