Rafael Lozano-Hemmer. Image: spots-berlin.de
Mexican-Canadian artist Rafael Lozano-Hemmer spoke with VoCA about his 6-piece exhibition as Mexico's representative at the Venice Biennale, and about his 200,000 watt interactive light sculpture Pulse Front: Relational Architecture 12 for Luminato festival in Toronto this week.
Rafael Lozano-Hemmer is representing Mexico at this year's Venice Biennale (June 10 – 21 November, 2007). The exhibition will consist of 6 large-scale installations in the Palazzo Van Axel, a 15th-century gothic landmark bordering the Chiesa Santa Maria dei Miracoli, in the vicinity of the Rialto Bridge.
Pulse Front: Relational Architecture 12 is an exhibition at Toronto's Harbourfront for the Luminato festival (June 1 – 10, 2007). Pulse Front will take place nightly at dusk, when 200,000 watts of power projecting light beams will create the largest interactive installation ever produced. 10 metal sculptures in Harbourfront are each embedded with biometric sensors. These will detect the pulse of participants by touch, and the heartbeats of participants will become luminous autographs in the sky.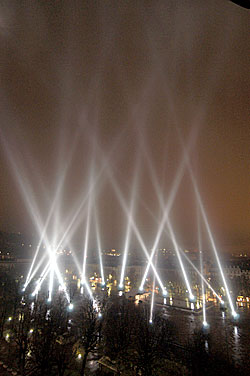 Vectorial Elevation, Dublin. Image: madeforone.com
VoCA: How would you describe your piece for Venice?
RLH: We've had 4 months to work on it, most countries take two years! It's in a beautiful old palazzo with 3,000 square meters over 4 floors. We redid the electrical installation, were dealing with heritage etc. There are 6 installations, so it's like a solo show.
One piece is the world premiere. It is called Wave Function and is a robotic artwork. It is made up of 50 electro-mechanical devices, Eames chairs with Saarinen bases with mechanics that create a wave. The chairs move up and down in a wave. No one sits on the chairs; it's a piece about absences.
There's another part to it – every hour on the hour, the chairs do a dance to a Venetian opera by Monteverdi. It's choreographed. The opera was also about absence and loss…
VoCA: How would you respond to people who say that 200,000 watts of power is a lot – in the age of environmentalism – to spend on a public artwork?
RLH: Well, I'm shutting down just as much power in the area, almost as much. We're shutting down as much lighting as possible in the area. Also, we use bio-diesel, which as you know is a biodegradable fuel. And the project's sponsor is doing a carbon-offset program. And, you know the piece uses 1/10th of the power of a leafs game.
VoCA: That's a good answer.
RLH: Well, I mean, have you ever been to a rock concert?
VoCA: How important is the scale of your work? While there is undoubtedly much strength in both small-scale and larger-scale pieces, the large pieces bring to mind the earth works of Christo, or Claes Oldenberg, which seem to be highly relevant today.
RLH: I always say my works are as big as my insecurities. When I'm feeling most insecure, my pieces become larger. There's a disconnect between the technology of amplification (search lights, advertisements etc) which has a top-down approach, and the general public.
The message is that participation is necessary. It's not a technology of intimidation, but of intimacy. It's about the personalization of public spaces. It allows people to regain a sense of entitlement, complicity in the public city. Promenading is important to me, to get people to think about their urban spaces.

Under Scan, East Midlands, UK. Image: threecitiescreate.org.uk
See the video of this piece HERE
VoCA: This idea of inclusivity, participation isn't a new one. How do you see the connection between your work and, say, Rauschenberg's interactive sculptures from the 1960's, like Oracle, Open Score or Soundings?
RLH: I like that question a lot. That's the problem that I have with people calling it NEW media. I detest the notion that we're original. We are in a tradition that includes Sol Lewitt, Thomas Wilford. It's a mash up of previous precedents. It's a spectacle on a mainstream level, but it can also be read as a continuation…Dan Graham etc.
It's a continuation. It's not a new way of approaching art.
Duchamp said "Le regard fait le tableau" – the look makes the painting…and Terry Eagleton spoke about the relationship between author, text and public too. Through the interlocutor the cycle of transformation completes. I find it very humbling to depend on the public.
I call my works Platforms, not shows. The people take over. There is an authorial bias – the public must work with the interface. There is a vision.
VoCA: To play the devil's advocate, aren't you just doing what the advertisements and the architecture is doing but putting the face of art on it?
RLH: There are fundamental differences. Any work is ephemeral. It's a quick intervention. I have no interest in claims to permanence. I want people to see the city differently. I'm about anti-utilitarianism. My work is passionately useless.
And, remember that interactivity is optional. With the media, it is in control. Here, people control the media. And I have zero control over the reception of the work.

Body Movies: Relational Architecture 6, Linz. Image: edoc.hu-berlin.de
See the video of this piece HERE
VoCA: Biometric technology makes it possible to access the individual's unique characteristics and your work enables the viewer to connect directly with a creative act. Is the participant the artist? Do you think that this may be read as a metaphor for the fact that we are all artists? That everything is art?
RLH: That's not my emphasis. There is a dark side to biometrics, for sure. There is a long tradition of surveillance in art. Don't forget that the searchlight and the Internet were first used for military purposes, fascist purposes. They are not neutral.
It is our responsibility to address these developments, to misuse these technologies, to disturb the peace, to force people to ask questions.
VoCA: There was a talk discussing Rirkrit Tiravanija's work at OCAD recently and the idea of the provenance of ideas came up. Do you think that an artist can make work with no 'background'?
RLH: History isn't viewed as a progression…except for New Media, which thinks it's new. It's inevitable to have a relationship to the past. Intersubjectivity, you know? A sense of history.
We had put to rest the desire for the new. The mix can be fresh; it can present to us options that are different. My proposal is to replace the word NEW with the word ALIEN. Because it doesn't belong there. So instead of doing something new, you do something alien. New media becomes alien media. It's nice to acknowledge – the alien-ness takes away the pretension to originality, and makes us register the difference. The alien-ness of the concept itself.

Vectorial Elevation, Lyon. image: orbit.zkm.de
VoCA: In an interview in 2005 you said the following: "With digital technologies I believe that the aura has returned…because what digital technology emphasizes, through interactivity, is the multiple reading, the idea that a piece of art is created by the participation of the user." You were referring to Walter Benjamin's idea that mechanical reproduction of an artwork destroys its 'aura'. Would you expand on the importance of participation in your work?
RLH: The singularity from interaction. Site-specific work no longer fetishizes locations but is relationship-specific. There are moments of self-reflection, ambiguity, tragedy and these are all unique.
VoCA: Is this simply a change in power dynamics? Instead of us looking at the artwork (and removing aura), the artwork looks at us (and restores it)?
RLH: Yes, exactly. There is a change in power dynamics. Artworks need to rebel. They want to react and be represented in a new way. It's a simple reversal.
VoCA: Does this follow on from man's domination of nature in art through the Camera Obscura and photography?
RLH: I think that relates more to phantasmagoria. Walt Disney's engineers were called "Imagineers" – it sounds really horrible, but it's true.
Creating solutions is about modern design of experience. For the art, the platforms to have more autonomy, to be more out of control. With Pulse Front, specific readings are being assembled by computer. In mathematics, there is non-linear dynamics, which is not so complex but takes on a life of its own.
It is about creating an unpredictable complexity. There were originally two forms of kinetic art: pre-programmed and random, where a Calder mobile would be influenced by the wind breezes etc. Now there is a third, autonomy, where you get simple rules.
VoCA: Do you mean – following on from your Calder example – like setting up a weather pattern system for the piece to react within?
RLH: Exactly! I'm not going to explain any more, because you've got it.
Go to Rafael Lozano-Hemmer's website HERE
This interview was commissioned and published by Gallery 1313, Toronto. Website HERE.
Read their member's publication, Artery HERE