ONE TO WATCH: ADAD HANNAH

Adad Hannah, Traces, 2007 (video still). Image: Courtesy the artist
Montreal-based artist Adad Hannah makes video installations in which the videos appear to be still, when in fact they are videos whose subjects hold their poses…sometimes. The work holds the viewer – who is expecting some forward movement – in suspense.
VoCA caught up with Hannah after his installation Traces had been deemed one of the most successful installations at Toronto's Nuit Blanche. He also exhibited Recast and Reshoot, based on Auguste Rodin's sculpture The Burghers of Calais at the Leonard and Bina Ellen Gallery in Montreal during Mois de la Photo, 2007.
VoCA: Let's talk about Traces, the piece that you installed at the Rex Jazz bar in Toronto for Nuit Blanche 2007. How did people react to your piece?
Adad Hannah: I was happy…when you make a new commission, you're nervous about what the response might be, but it was a great experience, and it was great how the piece progressed throughout the night. At 7 pm people who really wanted to see the piece came in, and then the bar filled up with people. It was neat the way that the art was inhabited by the people in the bar.
I was there from 7 pm until 2:30 am and then I came back at around 4:30 am.
After 4 am when they stopped serving, some of the 'real' viewers came back – people who had been told about the piece, who wanted to make sure they saw it.
VoCA: When I was there, I noticed that the actual goings on at the bar – the bartender etc, were integral to the piece. How did you find the Rex as a real working venue for your art? As opposed to a museum?
AH: At first I wasn't sure, I'm not used to working in a functioning bar, but it worked well. The owner was really generous, they blocked off areas to do the shooting, and the owner was there quite a bit. The venue itself was great – at first I didn't know about the Rex's place in Toronto's history. People seemed to really know about it. I think that people liked that Nuit Blanche changed the way people see Toronto for a night. It seemed important that my piece changed the way people looked at the Rex bar.
VoCA: What I really liked about Traces was the relationship between the videos, the setups and the actual people in the bar. It was like 3 spaces, or levels of awareness. How important is it to you to use the 'real world' in your work?

Adad Hannah, Traces, 2007 (video still). Image: Courtesy the artist
AH: When there are other people in the space with you (looking at the art), you might look at them and wonder what they're doing. At the Rex, there was a further dimension – you were looking at other people around you who were also looking at the art, but then there were people sitting having a drink.
This might sound grand, but what I want my work to do is to change the way people see things, the way they see the world around them. In Traces, you see the work, the tables, the other people. It's kind of folding back on itself, unpeeling, to show you more and more. You end up trying to figure out where it all begins and ends. Also the Rex had a great décor – adding to the 'grey area' between my intervention and the reality of the Rex bar.
VoCA: Your work can be seen as 'tableaux vivants' – an art form that was popular before the invention of photography. How does the history of photography relate to your work? (Famed Canadian conceptual photographer) Jeff Wall, as an example, could also be said to use tableaux vivants in his staged photographs.

Jeff Wall, After 'Invisible Man' by Ralph Ellison, the Prologue 1999–2000. Image: tate.org.uk
AH: I get to my work from a looking back, a playing with the origins of photography, and of long exposure times. Jeff Wall and others like him create a moment, captured in a flow of other moments and the viewer creates the before and the after in their mind. In my work, you have that at first, but then as (the still running video) unfolds over time with no change, it denies the urge to create narrative, in that time and space, it opens up into traditional video.
So my work views the person not as an actor, but as a human being standing there. They're really presenting a situation that is similar to the viewer's own experience.
VoCA: Your piece Cuba Stills was included in the National Gallery's show Acting the Part: Photography as Theatre last year. How do you think photography relates to theatre?

Adad Hannah, Installation documentation of Cuba Still (Remake) at Gallery B-312, Montreal. 2005. Image: Guy l'Heureux/adadhannah.com
(Buy the excellent National Gallery catalogue HERE.)
AH: Whenever you have a picture taken of yourself, you create a mini-performance. You pose etc. It's a murky area, of course, because you could say that people are always performing, as themselves. But there is a difference when you realize there's a lens. The performance of aiming and shooting happens very quickly, and you revert to your relaxed state very quickly. In my Stills, those moments are elongated. It reveals the human body.
My pieces are definitely performances. I direct (the 'actors') and tell them what to do. It ends up being a look at the failures of people to stand still, to control their bodies…they are all small performances. The recording element means that there is a performance being presented to you at that moment.
VoCA: Do you see yourself coming out of a particular tradition? Is that important to you?
AH: I think…not. When I moved to Montreal, from Vancouver…My work sort of came from a performance art background, it came from looking at the history of photography through performance. In Vancouver, I also worked on commercials, both in front of the camera as an actor and in the art department. That experience was incorporated into the construction (of the images in my work).
Also, I had an understanding of Jeff Wall's photographs…but I a strange relationship to that work. I knew lots of the people who are in his pieces, so in a way that knowledge broke down the illusion for me. I guess that's why I talk about my work coming apart…
VoCA: Please forgive the question, but in what way is your work Canadian?
AH: My work is not so particularly Canadian. Making work with an eye towards…functioning in different places. The content can change the meaning of the work…but I don't want to deny any Canadian-ness in my work…
For instance, in South Korea they teach (Korean video art pioneer) Nam June Paik in schools, so all kids know about that work. So there would be something that you could point directly to in Korean work.

Nam June Paik, L'Olympe de Gouges in La fée électronique, 1989. Image: ac-bordeaux.fr
There's a history in Canada, but the artists are not household names, it's more about being interested in art, not about artists as cultural heroes. In some cultures, they place an importance on that but not in Canada. Separating of art by region or by ethnicity, even, is not useful. It also creates pressures that are unnecessary.
VoCA: Tell me about Recast and Reshoot. It was shot in Korea, and it features a cast of Rodin's famous sculpture the Burghers of Calais, which depicts defeat of the French by the English during the Hundred Years' War. As part of the work, you then pose a number of Quick Service couriers in the same pose. What is the relationship between the two?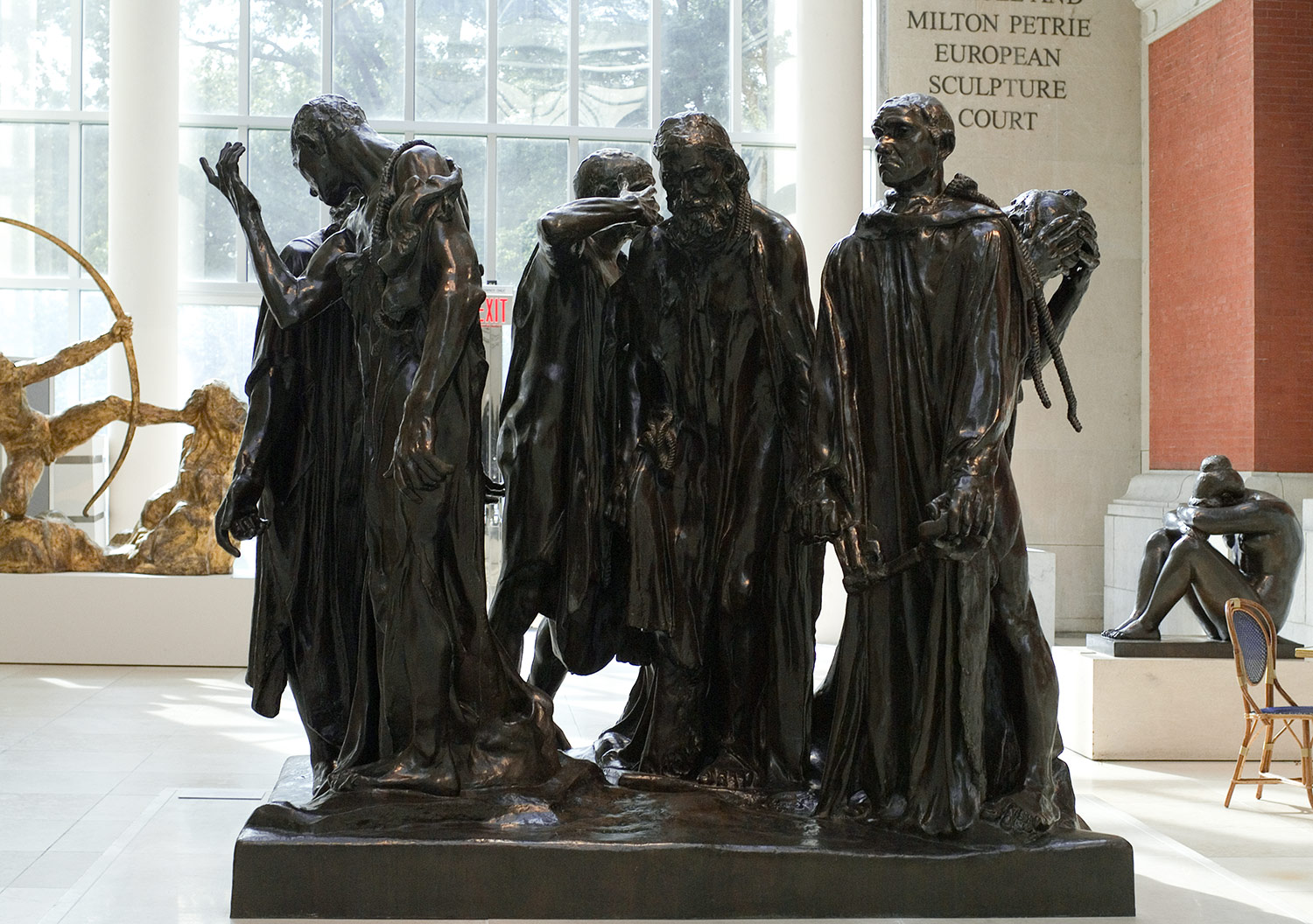 Auguste Rodin, The Burghers of Calais, modeled 1884–95; this bronze cast 1895. Image: metmuseum.org

Adad Hannah, Burghers of Seoul, 2006 (video still). Image: Courtesy of the artist and Pierre-François Ouellette art contemporain
AH: It's a moment of defeat, when the burghers are leaving Calais, but it is heroic. It's about sacrifice, civic sacrifice. Initially the project…Recast Reshoot is part of a larger project, around the Burghers of Calais in each of the cities that have a cast of the sculpture. Initially I thought the Burghers sculpture had no place in Seoul. Then I thought the piece was there as a way to show Korea's emergence on the international economy.
But that was too easy. So instead I tried to find relationships, new relationships that could be forged between the sculpture and the cities that they're in. Relationships between the sculpture and the city. So that each project, in each city, will be seen as separate.
As for the couriers, for one I felt they matched aesthetically. Their uniforms look like leather and they could be 'recast' easily. Also, the couriers are heroes of the city, they are the grease that keeps everything moving. In Seoul, the couriers do everything. They are the unsung heroes. They are responsible for keeping business moving, and they are constantly in motion.
VoCA: How will this project develop then? You said it is part of a larger project.
AH: I've started shooting a bit in London, and I've got contacts with people at the Rodin Museum in Paris. It's slow moving…and I'll shoot some stills at the Prado. It's something that I want to keep doing – without having the pressure to finish all twlelve. I don't want to bring the same track to each one. I want each one to say something different, so that eventually they might be exhibited together and they wouldn't be the same work or be done in the same way.
VoCA: Thanks so much, Adad. Very interesting!
AH: My pleasure.
Adad Hannah is represented by Pierre-Francois Ouellette Art Contemporain in Montreal. Please click HERE for gallery website.