1. AARON CARPENTER: THE ART OF RICHARD TUTTLE AT THE HELEN PITT GALLERY, VANCOUVER
April 11 to Saturday May 3, 2008
VoCA loves the work of American artist Richard Tuttle. Now, the young Vancouver artist Aaron Carpenter is getting all Sturtevant and copying Tuttle's oeuvre.
(Elaine Sturtevant has made her name copying famous artist's work – see her Warhol below)

Elaine Sturtevant, Warhols Flowers, (1964-1991). Image: saatchi-gallery.co.uk
Aaron Carpenter's THE ART OF RICHARD TUTTLE is the first installment of the Helen Pitt Gallery's three-exhibition Workaday series, addressing process, labour and the performative gesture.
Carpenter will spend three weeks working live within the gallery space to develop his new project, which is an exhibition of replicas, duplicates, imitations and likenesses of artworks by Richard Tuttle.

The artist Richard Tuttle. Image: kopenhagen.dk
Using the catalogue from Tuttle's 2005 retrospective at SFMOMA as a working manual, Carpenter will be keeping regular office hours in the gallery in an attempt to reproduce, in some manner, all of the 317 works catalogued therein.

Richard Tuttle, Letters (The Twenty-Six Series), 1966. Image: askart.com
For more info, please click HERE.
For more on Elaine Sturtevant, please click HERE.
2. STEPHEN WADDELL AT THE VANCOUVER ART GALLERY
April 04 – June 01, 2008

Stephen Waddell, Man with Heavy Sack. Image: artnet.com
Stephen Waddell moves beyond photography in his first exhibition to bring together painting, Super 8 film, Polaroid and large scale photographs.
Waddell, who began as a painter, has brought his painter's eye to street photography. According to the press release, "his photographs offer a glimpse of the beauty of everyday life and the common situations we surround ourselves with."

Stephen Waddell, Her Corner, 2001. Image: monteclarkgallery.com
The exhibition is curated by the artist Roy Arden. The show begins with Waddell's carefully composed paintings from the mid-nineties and draws a direct line to his most recent photographs from 2008.
3. THE ICONOGRAPHY OF THE IMAGINATION: THE ART OF JAMES REANEY AT THE MCMICHAEL CANADIAN ART COLLECTION, TORONTO
January 26 to May 18, 2008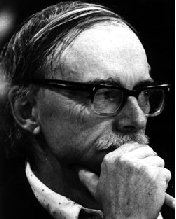 James Reaney. Image: canadiantheatre.com

This exhibition of artwork by one of Canada's finest poets and playwrights will provide an overview of his artistic production from the 1940s to the mid-1990s as well as examine his art in relation to his writings. The exhibition features sketches, drawings, and paintings of emblems, figures and archetypes as well as landscape.

James Reaney, The Painter's Table, 1994. Image: mcmichael.com
Reaney won his first of three Governor General's Awards for the book of poetry The Red Heart in 1949. He received the other two awards for A Suit of Nettles (1958) and a joint award for Twelve Letters to a Small Town and The Killdeer and Other Plays (1962).
He is a member of the Order of Canada.
Please click HERE for more info on the exhibition, and HERE for more on Reaney.