1. Janet Cardiff and George Bures Miller
31 July – 28 September 2008
The Fruitmarket Gallery, Edinburgh

Janet Cardiff and George Bures Miller, The Killing Machine, 2007. Image: e-flux.com
The exhibition includes the early installation Dark Pool, 1995, in which viewers are invited to move through a room full of abandoned furniture, carpets, books, empty dishes and mechanical paraphernalia, eavesdropping on sound fragements that tell a story of a "Dark Pool". Also included is the piece Opera for a Small Room 2005, a simply-constructed shed, containing almost 2,000 records and eight record players, which turn on and off as the room begins to perform for an audience.
The most recent work in the exhibition, The Killing Machine, 2007, was partly inspired by Franz Kafka's In the Penal Colony, and partly by the American system of capital punishment. A mechanical ballet activated by the viewer, it takes an ironic, mesmerising and menacing approach to machines designed to torture and kill.
[youtube]oOLlz7-Ktvo[/youtube]
Janet Cardiff and George Bures Miller, The Dark Pool, 1995. Image: youtube.com
Please click HERE for more info.
Read an article on the Edinburgh Festival, from the New Scotsman, HERE.
2. "THE ROYAL ART LODGE"
13 June- 28 September
Centro de Arte Caja de Burgos, Spain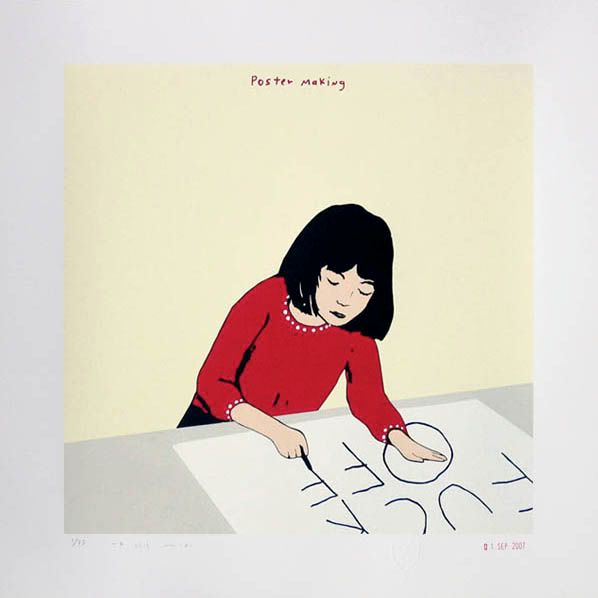 The Royal Art Lodge. Image: photobucket.com
Michael Dumontier, Marcel Dzama and Neil Farber are the three artists included in the first major exhibition of the work by Royal Art Lodge to be organized in Spain.
For the RAL website, please click HERE.
For info on the exhibition (Spanish only), please click HERE.
Some works by the RAL – all images: royalartlodge.com