1. SAMUEL ROY-BOIS: Let us, then, be up and doing; With a heart for any fate; Still achieving, Still pursuing; Learn to labor and to wait
Contemporary Art Gallery, Vancouver
June 13 – August 24, 2008

Samuel Roy-Bois, J'ai entendu un bruit, je me suis sauvé/I heard a noise and I ran, 2003.
Image: samuelroybois.com
ARTIST TALK: Thursday, July 24th at 7pm
Samuel Roy-Bois gives an artist talk at the gallery, where he will present a visual history of his sculptural work, focusing on issues of engagement and materiality.

Samuel Roy-Bois, Je t'ai toujours aimé/I always loved you, 2005. Image: samuelroybois.com
For more info, please click HERE
For the artist's website, please click HERE
Samuel Roy-Bois is represented by Diaz Contemporary, Toronto. Please click HERE for the gallery website.
2. CAROLINE DUKES: Concealed Memories
Winnipeg Art Gallery
July 24 – October 19, 2008

Caroline Dukes, Danube, 1996. Image: art-history.concordia.ca
On her death in 2003, Winnipeg artist Caroline Dukes left a remarkable body of work that dealt with memory, loss, tragedy, and the human spirit's amazing capacity to overcome.
40 works including sculpture and painting will be on view, tracing
thirty years of Dukes' mature practice which explored complex and compelling contemporaneous issues, yet were rooted in her staunch religious beliefs as an Orthodox and observant Jew.
Her work reflects the many life-changing experiences she went through—the death of her father when she was very young, life in her native Budapest during the Nazi occupation and the Stalinist era, her emigration to Canada, and the cancer she fought for many years.

Caroline Dukes, Chronicle, 1996. Image: art-history.concordia.ca
For more info, please click HERE.
For Caroline Dukes' website, please click HERE
3. ROY ARDEN: New Works
Monte Clark Gallery, Toronto
July 24th – September 7th, 2008
It's not every lensman who is able to identify grand emotion in his immediate surroundings, but it's something that many photographers strive for. Roy Arden achieves this, finding beauty, richness and pathos in the everyday.
One famous silver gelatin print, L'Elegance, transforms a decaying car into a thing of magical beauty, while Arden's first photographic series, Fragments, seems as strong as ever after nearly 20 years.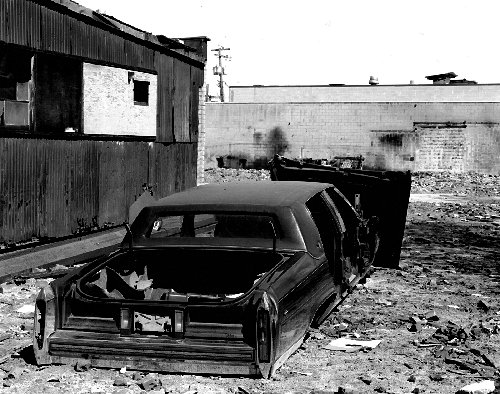 Roy Arden, d'Elegance #1, 2000. Image: exporevue.com

Roy Arden, from his Supernatural video of 2005. Image: akimbo.biz
His online work, The World as Will and Representation (the title of which is taken from the German philosopher Arthur Schopenhauer),
is on his website, HERE.
Click HERE for Monte Clark Gallery.