Matthias Arndt and Tiffany Wood in their Berlin apartment. Image: artinfo.com
This article about art dealers who collect design (is there anyone who doesn't, anymore?) may leave you with a case of the too-coolies. Check out the article at ArtInfo HERE.
VoCA thinks it's time for a little (non-ironic) bad taste.

An Anton Henning painting above a 1952 Bertoia bench. Image: artinfo.com
Speaking of design, VoCA's favorite design blog, Designboom (see blogroll at right) has an interview with the American video/installation artist Tony Oursler, one of the first artists whose work really blew us away.

An installation by Tony Oursler. Image: csw.art.pl
It was around 1995 and we were wandering through a museum in Germany when we turned into a room, and there it was….though we can't quite recall if it was the man's face with suit on a hanger, or the girl's head under the mattress..but the figure was muttering incomprehensibly, and it seemed so surreal and so real at the same time…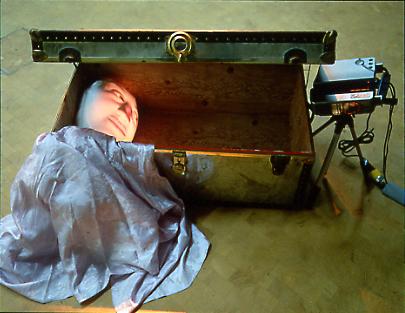 Another installation by Oursler. Image: medienkunstnetz.de
Oursler now works on a much larger scale, projecting into trees and onto buildings, as he did for Artangel's project The Influence Machine, in 2000 in London and New York. Click HERE for that website.
Check out the article HERE.

Tony Oursler, The Influence Machine, 2000. Image: artangel.co.uk
Visit Oursler's website HERE.