We saw two exhibitions in New York recently: Giorgio Morandi at the Metropolitan Museum and After Nature at the New Museum.

Giorgio Morandi, Still Life (Natura morta), 1961. Image: metmuseum.org

Giorgio Morandi (1890-1964)
September 16–December 14, 2008
The Metropolitan Museum of Art, New York
The Morandi was excellent. We kept thinking of Plato's theory of Forms, which are described as the pure essences of things, or the defining characteristics of things.
Perhaps the exhibition catalogue says it best: (The still life genre) "let him proceed by concentrating on "simple 'objects', arranged, graduated, varied, exchanged" and landscapes bounded by a horizon – elements of his visual world but also of his interior world, and part of his propensity for giving new expression to an entirely Italian essence, "digging into form, and through it, layering tonal 'memories'".

Giorgio Morandi, Still Life (Natura morta), 1962. Image: metmuseum.org
Above all, the genre enabled him, as he aspired in 1937, to "touch the core, the essence of things", attuned as he was to the idea that painting is a slow form of work, a process of progressive adjustment."
Morandi was a poet.

Giorgio Morandi, Still Life (Natura morta), 1963
Click HERE for the Metropolitan Museum of Art website.
Click HERE to read the New York Times review of the show.
After Nature
July 17 – 21 September, 2008
The New Museum, New York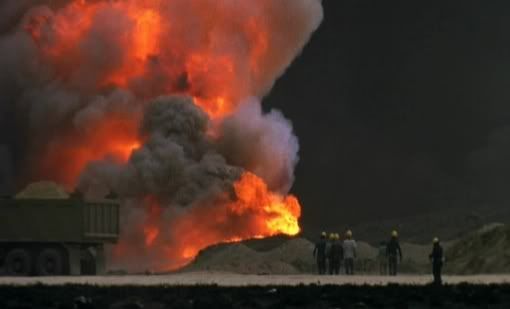 A still from Lessons of Darkness, Werner Herzog, 1992. Image: photobucket.com

At first we thought this would be another post-apocalyptic show…echoing the theme of many recent biennales around the world. Many contemporary artists are today documenting apathy and regret that they sense in the world around them, and many of these artists were included in this show, but not without peaks of extraordinary hopefulness.
The show, which featured an amazing film of Kuwaiti oil fields by Werner Herzog as its inspiration and starting point, could make the viewer – an American viewer in particular, we suppose – feel guilt, but the curators smartly included works that suggested the possibility of regrowth and recovery.

Artur ?mijewski, Oko za oko. Image: obieg.pl
We loved the seven ceramic heads, each with eyes closed, by VoCA favorite Thomas Schutte, and the lovely installation of August Strindberg's Celestographs, made when he left photographic paper on his windowsill, in the belief that the stars could be captured. They are not – it's dust that is captured – but they appear to be.
Roger Ballen's awkwardly poetic photographs were great, as was Artur ?mijewski film Oko za Oko (An Eye for an Eye), which shows a naked, one-legged man receiving help in walking from his two-legged partner.

August Strindberg's Celestographs. Image: homemadecamera.blogspot.com
Perhaps the best moment for us was seeing Tino Sehgal's living sculpture in gold sneakers writhing beautifully on the cold, concrete gallery floor.
Click HERE for the New Museum website.