Nuit Blanche Toronto takes place this Saturday, October 4th from dusk 'til dawn. Since last year's audience doubled to 800,000 VoCA has selected what we think will be the evening's highlights.
Click HERE for our critics picks of Zone A and HERE for Zone B.
Zone C is down in Toronto's Liberty Village this year, and is made up of two exhibitions by two curators, Haema Sivanesan, executive director of SAVAC, the South Asian Visual Arts Centre in Toronto and Dave Dyment, artist and former co-director of Mercer Union Contemporary Art Centre, Toronto
Our picks for Dave Dyment's exhibition, titled Beginning to See the Light, are:
1. Overflow, 2008 by Michel de Broin

Michel de Broin, Solitude, 2001. Image: micheldebroin.org
We're pretty sure the 2007 Sobey Award winner won't disappoint. This is the man who imagined suspendina a mobile home from a crane and risked arrest for driving a pedal-powered Buick Regal downtown.
This piece will present a waterfall flowing from a third story window.
Click HERE for the artist's website.
2. Imagine Peace, 2001 by Yoko Ono
Having one of VoCA's favorite artists in Nuit Blanche 2008 is amazing – and with one of her legendary pieces, too.

Yoko Ono reads a wish from the Wish Tree. Image: daylife.com
Wish Tree invites participants to write a wish on a piece of paper and tie it to the branch of a tree, as a form of collective secular prayer. The resulting mass of wishes resembles white flowers blossoming from afar.
The "Imagine Peace" billboard continues the advertising strategy of the "War is Over!" campaign that Ono and Lennon waged in the late sixties and early seventies.
Click HERE for more info.
3. I Promise It Will Always Be This Way, 2008 by Jon Sasaki
The Toronto artist known for his irreverent sense of humour presents a performance piece in which a few dozen costumed team mascots will take the field at Lamport Stadium and work to whip the crowd into a fervent frenzy.

Jon Sasaki, Mascots 2008. Image: jonsasaki.com

They will cheer and clown around, while stadium rock plays over the loudspeakers. As the evening progresses and fatigue sets in, the mascots require cigarettes, naps, snacks and bathroom breaks. The music slows down to mirror their lethargy.
The dwindling of enthusiasm and the breaking of the illusion dash expectations as a celebration of futility and pathos.
Click HERE.
Our picks for Haema's contribution, titled Strange Destinations are as follows:
1. Future (· · · – – – · · ·) Perfect, 2008 by Brendan Fernandes

Brendan Fernandes, Future (· · · – – – · · ·) Perfect, 2008. Image: brendanfernandes.ca
This massive installation of shipping containers pulses with light in morse code, indicating SOS.
Click HERE for the artist's website.
2. Buffalos in Combat, 2008 by Hamra Abbas
This sculpture of fighting buffalo by Abbas, who is from Islamabad, Pakistan takes as its inspiration a 16th C Mughal miniature painting.

Hamra Abbas, Ride 2008/Islamabad. Image: hamraabbas.com
The subject matter of this painting was popular during the reign of the Emperor Akbar (1556-1605), where artists took great pride in depicting vibrant and naturalistic scenes of courtly sports.
Abbas renders this scene in life-size sculptural form, exploring the spectacle of death under state sponsored systems of violence.
Click HERE for the artist's website.
3. Euphemisms for the Intimate Enemy, 2008 by Ruark Lewis
Lewis, an Australian artist, has constructed this piece from five hundred and fifty 55 gallon drums. Words and statements from the post-colonial texts of the Indian theorist Ashis Nancy flicker and boom against this enormous structure.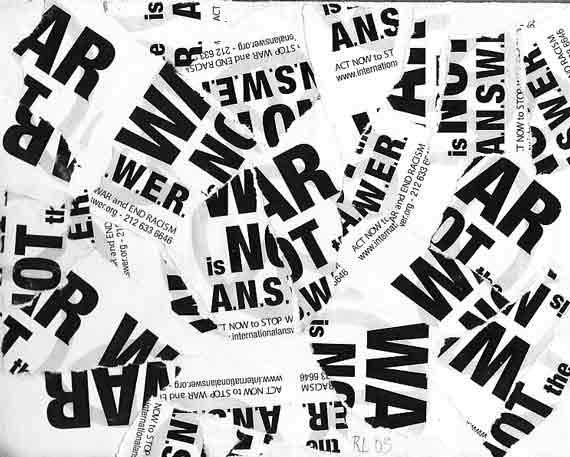 Ruark Lewis, a work commissioned for the Poem of the Day booklets, 2002. Image: cordite.org.au
It's "an experimental relationship between (non)sense and poetry, creating a new space for cross-cultural engagement."
Click HERE for more info.
And click HERE for the Nuit Blanche website, with all additional information.