VoCA contributor Jenny McVean reports from London on Michael Snow's exhibition at the British Film Institute:
Legendary Canadian artist Michael Snow has worked in various media since the 1950s such as music, sound installations, sculpture, photo-works, holography and painting, but it is his film works that are highlighted in this exhibition at the BFI Southbank Gallery in London.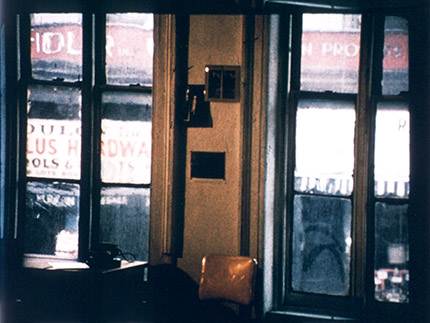 Michael Snow, Wavelength, 1967. Image: avantofestival.com
In Yes Snow Show, Snow is positioned as a leader in experimental film (which he is), through a range of works that use simple imagery to shed light on the history of art and the formal practice of filmmaking. Snow has said that in his film work "the aspects that are particular to cinema become the protagonist" such as the relationship between sound and image, and the movement of the camera lens through space.
His Wavelength of 1967 has been cited an extremely important work in the history of experimental film, and artists and filmmakers such as Chantal Akerman, Bill Viola, Dan Graham, Wim Wenders and Paul McCarthy refer to him as a key influence.
Click HERE to watch a clip of Wavelength.
The BFI Southbank situated the opening of Yes Snow Show in relation to a series of events exploring the relationship between the moving image and the world of art. The screening on December 5th in conjunction with the show of 1971's La Région Centrale counted members of the London artistic, and intellectual community such as the The Ootolith Group's Kodwo Eshun and Anjalika Sagar in attendance.

Michael Snow, Filmmaker with film apparatus, La Région Centrale, 1971. Image: canadacouncil.ca
Despite Snow's place in his field, Jessica Lack of the Guardian described how "This retrospective … is a direct response to the extreme reactions, both positive and negative, he has had to his work." Snow has sometimes been criticized for a lack of accessibility for the common viewer, as the original Wavelength was a 45 minute single tracking shot through a room that many have found difficult to watch. Yet, the choices for films selected for Yes Snow Show can be thought to provide something for everyone. With works from different points in Snow's career, this show provides a great starting point for those who know very little about experimental film. It's also a good place for those who would consider themselves well versed to learn from one of the masters.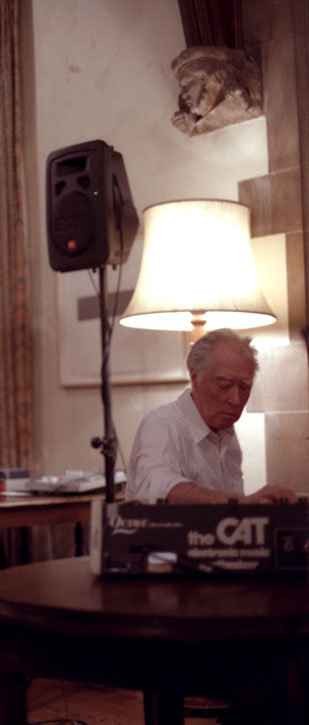 The artist and musician, Michael Snow. Image: freemarketrecords.com
Snow has even attempted to tackle criticisms of his work with a bit of humour, and in 2003 he created a new 15 minute version of Wavelength entitled WVLNT – Wavelength For Those Who Don't Have the Time that is also part of this show.
Please click HERE for more information on the BFI show, and HERE for more on Michael Snow.