The exhibition WACK! Art and the Feminist Revolution at the Vancouver Art Gallery presented quite an extensive survey of feminist art. According to the catalogue text, "in the space of a generation, feminism transformed social relations, personal identities, and institutional structures….the feminist revolution in art was no less radical and transformative than the social movement from which it drew strength."

Hon, 1966, (monumentale sculptuur), Niki de Saint Phalle, Moderna Museet, Stockholm. Image: formartepura.fo.ohost.de
There were some excellent works on view. VoCA is a big fan of feminist art, which drew its political power from the backdrop of the patriarchy against which it was rebelling. In much the same way, African American art of the time raged against racism, and likewise 'gay art' against homophobia.
Some works in the show were reminiscent of other works. Suzy Lake's A Genuine Simulation of…(1973-4) in which she applies whiteface before a full face of makeup, blush, eyeliner and shadow reminded us of Bruce Nauman's video Art Make-up from 1967-68, in which he paints his torso and face white, then pink, green and black.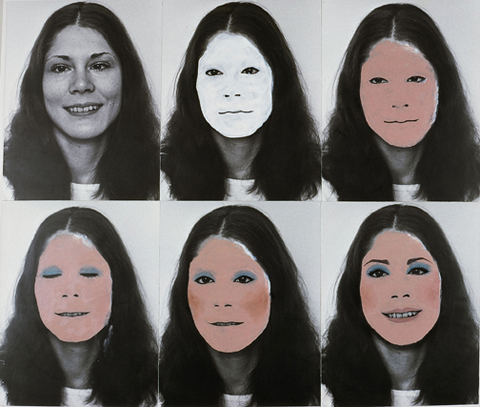 Suzy Lake, A Genuine Simulation of. . . No. 2 (1974). Image: artnet.com
Sanja Ivekovic's images of personal photographs that emulated the poses of models in later 1970s lingerie ads offered a perspective onto the nature of femininity – hijacked by the ad industry and sold back to women.
Joan Jonas' Mirror Piece I, in which she and others performed with full length mirrors, demonstrated the relationship between audience, artist and self. The use of mirrors – seen today in work by David Altmejd, Candice Breitz, Adad Hannah, Gwenaël Bélanger and others – seemed incredibly modern.

Bruce Nauman, Art Make-Up: No. 1 White, No. 2 Pink, No. 3 Green, No. 4 Black. 1967-1968. 16mm film transferred to video. Image: moma.org
Yoko Ono's legendary Cut Piece was also a performance from 1964 in which she invited audience members to cut off pieces of the clothing she was wearing, slowly, beautifully revealing her vulnerability.
Our favorite works in the show were by the legendary feminist artist Judy Chicago – Through the Flower, 1973 and Rejection Quintet, 1974. Her ability to create sublime abstract paintings that isolate the essence of femininity is impressive. Adding to this are her diaristic musings scribbled between the images of the Childhood Rejection Drawings.
Our best discoveries were Maria Lassnig's cartoon videos (Self-Portrait, 1971) and Helena Almeida's Pintura Habitada, 1975, which is a series of photographic self portraits of the artist painting, taken in a mirror, then painted over in parts.

Helena Almeida, Pintura Habitada (Inhabited Painting), 1975. Image: girlartindex.com
The exhibition, however, suffers from trying to be too much. It's divided into sections, some of which are a stretch. The section titled Collective Impulse is perplexing, though Lygia Clark's interactive sculptures included here are certainly excellent. Under Silence and Noise, Louise Fishman's painting series, like the angry looking Angry Gertrude, 1973 are exactly that. Large, colourful, angry…and silent. It says as much about the power and weakness of language.
Although the core idea of the show – the power of feminist art – was occasionally lost in these sections, the best pieces overcame this problem. The documentation of Niki de Saint Phalle, Jean Tinguely and Per Olof Utvedt's Hon, from 1966 showed a giant, multicoloured (fiberglass?) sculpture of a woman, lying on her back, her vagina an open door for the public to enter in order to experience a number of attractions, including a screening room. It reminds us of what the Dutch conceptual sculptor Joep Van Lieshout is doing today.

Atelier Van Lieshout, Body Bar, 2006. Image: afentoeeenfoto.skynetblogs.de
Also included in the show was the famous piece, Interior Scroll (1975) by American artist Carolee Schneemann in which she stood naked on a table, painted her body with mud until she slowly exracted a paper scroll from her vagina while reading from it.
VoCA interviewed Ms. Scheeman a few years ago: Click HERE to read our interview.