An exhibition by young Vancouver artist – and 2008 Sobey Art Prize winner – Tim Lee opens at the Hayward Project Space at the Hayward Gallery, London. The show is on from today until Sunday, 8 February 2009.

Comedian Steve Martin. Image: reneeashleybaker.com
In Untitled (Steve Martin), 2008, Lee re-enacts a 1970s stand-up routine by Steve Martin, a comic who once famously informed his audience that his entire act would consist of one joke, repeated over and over until the final curtain.
On Steve Martin's first comedy album, Let's Get Small, recorded live at San Francisco's Boarding House in 1977, Martin says, now famously, "You just can't play a depressing song on the banjo."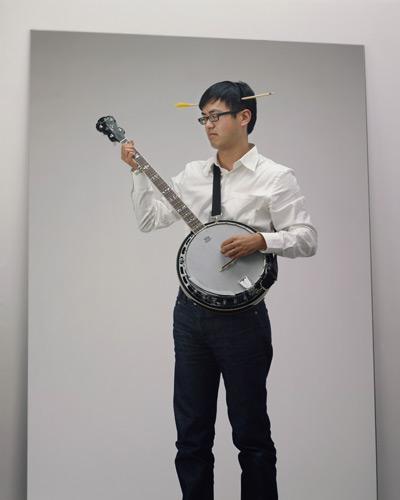 A work by Tim Lee. Image: manja.org
For this exhibition, Lee is showing work informed by various artistic figures – the Russian constructivist photographer Alexander Rodchenko, the American artist Dan Graham, and the American comedian Steve Martin – underlining both Lee's relationship to them, and their (perhaps unexpected) relationship to each other.
In the photographic series Untitled (Alexander Rodchenko), 2008, an optical device comprised of angled mirrors allows a Leica I camera (a tool heavily associated with Rodchenko's dynamic form of photography) to take images of itself, the results of these 'self-portraits' are exhibited.

Tim Lee, Untitled I (The Pink Panther, 2049) 2007. Image: canadianart.ca

Alexander Rodchenko, Girl with Leica, 1934. Image: artnet.com
Often skating close to absurdity, Lee's 'cover versions' emphasize that cultural history, far from being fixed, is in a constant state of flux – changing with every fresh perspective on it.
The exhibition is supported by Canada House Arts Trust.
For the Hayward Gallery website, please click HERE.
Tim Lee is represented by Lisson Gallery, London. Please click HERE.