Alexander Calder: The Paris Years, 1926 – 1933 on at the Whitney until February 15, 2009 is a small and perfectly formed show on the seven years in Paris that defined the artist's career.

Image: allposters.com
Watch the video:
[youtube]t6jwnu8Izy0[/youtube]
His animating drawn line transformed from two dimensions to three, from ink and paint to wire, anticipating the 1970s multi-faceted wire and pencil wall sculptures by one of VoCA's other favorite artists, Richard Tuttle.

Richard Tuttle, Wire Octagon (#4), 1971. Image: flickr.com
Calder's wire caricatures make line drawing spring to life from every angle, his animals are simply and wittily formed, but it's his miniature Circus that we found most delightful, in the way that Paul Klee's hand puppets were. (See VoCA post HERE.)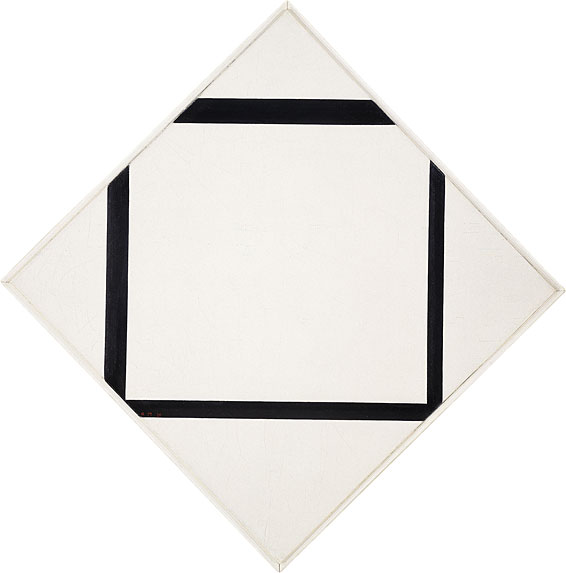 Piet Mondrian, Composition No 1, 1930. Image: cineclubcaen.com
After meeting Piet Mondrian in 1930, his experiments with wire led to abstraction, which in turn led to kinetic sculptures, and further to his famous 'mobiles', a term that Duchamp coined for the moving sculptures.

Alexander Calder, Two Spheres within a Sphere, 1931.
Image: arttattler.com/Calder Foundation.
One of the best pieces on view is his earliest documented ceiling-suspended mobile, Small Sphere and Heavy Sphere, from 1932-33. It's a percussive instrument that is set off every once in a while by a security guard, setting in motion a ball on a pulley that bounces off numerous bottles, a tin can, a gong and other objects, creating music.
Buy the excellent catalogue HERE, and click HERE for the Whitney Museum website.