The more we've been thinking about the current state of the art market, the more we're growing tired of it.
Now that the economy is providing a much-needed shakedown in the art world, VoCA says it's time to re-think where the value of art stems from. Value doesn't come from some clever young art school grad who comes up with a new take on an old story…art has value because it contains a universally recognized, though often subtle, authentic quality.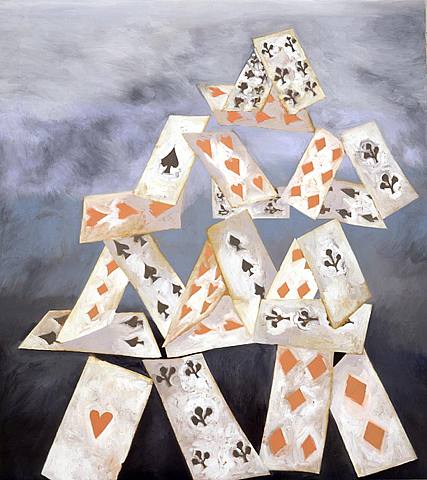 Francesco Clemente, House of Cards, 2001. Image: artnet.com
As Marx wrote, the value of money stems from the labour to which it was once – but no longer – attached. Likewise, art on the secondary market has divorced itself from its real, important meaning and begins to take on much more sinister associations.
(Check out the excellent NYT article on mega-dealer Larry Gagosian HERE if you haven't already)

Jeppe Hein, Water Flame, 2006. Image: sieshoeke.com
Ultimately having a Warhol may mean you're wealthy, but does it make you any more interesting? No. How about a Jeppe Hein? No.
(Well, maybe slightly.)
So we'd really like to see a turn toward widespread acknowledgement of the infrastructure that supports the arts in Canada. The organizers, the educators, the promoters, the museum directors, the patrons and the entrepreneurs who work tirelessly to promote Canadian art.
Stay tuned.