Québécoise painter Marcelle Ferron was a member of Les Automatistes, a group, led by Paul-Emile Borduas, that believed that painting should be a result of the abstract workings of the inner psyche released subconsciously.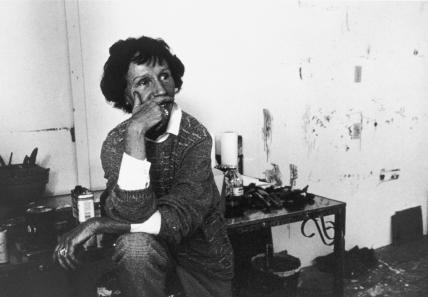 Marcelle Ferron. Image: nfb.ca
She became well known also for her stained glass pieces, which she learned in Quebec and pursued further while living in Paris from 1953 – 1966; the Metro station Champ-de-Mars in Montreal contains one of her windows.
She was awarded the Paul-Émile-Borduas medal for the visual arts in 1983, and in 1985 was made a Knight of the National Order of Quebec. She was promoted to Grand Officer in 2000, one year before her death.

Marcelle Ferron, Les barrens, 1961- Image: artnet.com
"The only woman to sign the Réfus Global, Ferron championed an approach to art that rejected the figurative and formal traditions of her Beaux Arts training. Her early canvases are visceral studies of the post-war psyche that bare witness to a period of re-birth and reinvention in French Canadian Art."
(AJ Lloyd, 2009)

Marcelle Ferron, Lascive, 1959. Image: galeriesimonblais.com
In Toronto, Ingram Gallery will be exhibiting works by Ferron from March 19 – 9 April. Don't miss this opportunity – the show comprises significant canvases from 1947 – 1997.
Ferron was, we believe, a prolific artist. Her works come up regularly for auction in Toronto. Not all are of equal value, but the very good ones are truly superb.

Marcelle Ferron, 1958-59. Image: artnet.com
Click HERE for Ingram Gallery