Surreal Things
May 9 – August 30, 2009
Art Gallery of Ontario, Toronto
This is an excellent show, well worth seeing.

Salvador Dali, Ruby Lips brooch, 1949. Image: ago.net
It comes from London's Victoria and Albert Museum, and is filled with marvelous objects that demonstrate the creative cross-fertilization between surrealist artists and designers.
There are stunningly modern Schiaparelli dresses, ceramics, textiles, jewellery and, of course Duchamp's famous readymades.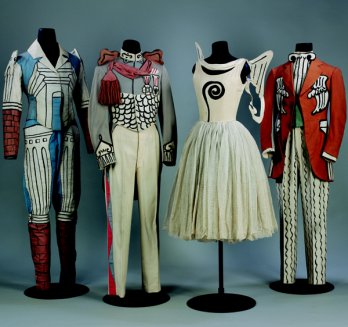 Giorgio de Chirico's costume designs and stage settings for Diaghilev's Le Bal, 1929. Image: egodesign.ca
The show opens with a fantastic set framing Giorgio de Chirico's kooky architecturally-inspired costumes from Diaghilev's Le Bal, designed in 1929, and makes us hope that Toronto artists see this show, draw inspiration and pursue such artistic cross collaborations.
We'd love to see artists get out of the 'market mentality' – that their work has to fit on the wall of a collector's home, above the sofa. VoCA says: Forget about that – Just make art with the biggest ideas possible.

Man Ray, Model (Lee Miller) in Dominguez' wheelbarrow, 1937. Image: arttattler.com
The best thing in the show was – for us – Oscar Dominguez's Wheelbarrow, c. 1937. A red satin-lined wheelbarrow. Accompanying the piece is Man Ray's photograph of a fashion model reclining ever so glamorously on the piece, wearing a Vionnet silk gown.
This may be the perfect Surrealist object, we think.
Also interesting to note – in light of today's art world – is the importance of patrons. Edward James was the foremost patron of the time, and he supported both Magritte and Dali. One wonders where we would be without him.
Click HERE for more info.