At first glance, you can't help but wonder about the point of it all.
A group of artists travel to the world's biggest art party to…well, party, paddle around in canoes, drink lots of prosecco and generally live it up in a rambling palazzo. Oh yes, and make whatever 'art' takes their fancy. The Canadian off-pavilion contribution, Reverse Pedagogy, was the second installation in a residency that seeks to break down the walls of institutionalism, whether by the art school, the museum or the biennale See clarification in the comments, below.

Roman Ondák's Loop in the Czech and Slovak pavilion. Image: washingtonpost.com
The trip was sponsored, each canoe emblazoned with the name of a Canadian art supporter, so people are obviously supporting the idea.
So is pointlessness a new trend in art?
Looking and photos and reading reviews from the Biennale, it seems to us that many pavilions try too hard to demonstrate a point, without acknowledging the context that their art is in. It's not that the work is bad, on the contrary, but it can seem out of place in the nationally divided biennale – an outdated concept if there ever was one.
Artists have, for decades – centuries, actually – been struggling to loosen the boundaries of art. Elmgreen and Dragset are good examples – their Nordic and Danish pavilions (ostensibly a collector's home, complete with dead body floating in water) featured work by twenty-four international artists, designers and artist groups, and received a special mention from the jury.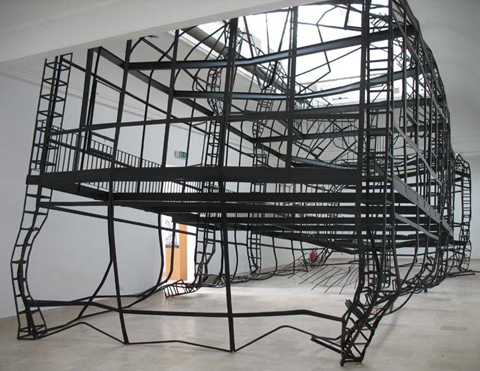 Monika Sosnowska's 1:1 from the 2007 biennale. Image: artnet.com
VoCA thinks that, more often than not, the most successful pavilions are the ones that position themselves against what the biennale represents.
Last biennale, our favorite – by far – was Monika Sosnowska's simple and astoundingly effective installation 1:1, which involved an enormous steel structure crammed, more or less successfully, inside the Polish pavilion, evoking Alice in Wonderland and Louise Bourgeois while questioning the relevance of the pavilion's architecture. It was a smart comment on how the world has changed since the 53 year old biennale began.
This year, from what we hear, a similarly poetic effect was achieved by Roman Ondák's installation, Loop in the Czech and Slovak pavilion. He has eliminated all appearance of the pavilion by continuing the gray gravel of the Giardini and the trees and grasses throughout the space, like an invisible carpet.
Blake Gopnik in the Washington Post (HERE), and the Guardian's Adrian Searle (HERE), where we first read about Ondak, seem to agree with us.