VoCA went to Montreal and by far the best thing we saw was Michal Rovner's wonderful installation Particles of Reality, her first solo exhibition in Canada, at DHC Art Foundation. The exhibition, which opened in May and runs through September 27, begins with the same video works projected onto Petri dishes that the artist showed at the 2005 Venice biennale's Israeli pavilion.

Michal Rovner, a close up shot of Datazone, 2003. Image: musesphere.com
We were struck by her work then, but this exhibition is even better. Rovner's videos of tiny, abstracted human beings, swaying and dressed in black derive meaning from the way they are exhibited. The people are choreographed in patterns so that in Data Zone (2003), a group of long tables embedded with illuminated Petri dishes, they look like Chromosomes.

Michal Rovner, a work from 2004. Image: flickr.com
In Stone (2004) and Stones (2006-2009), videos of quietly moving imagery recall hieroglyphs and cave paintings.
Upstairs, there is an excellent documentary showing the large scale work that Rovner has done for LVMH, Chanel and others as well as Border (2000), a Kafkaesque, "fictional" documentary shot on the highly charged Israel/Lebanon border and The Making of Makom (2008), a video charting the construction of a sculptural project where the artist gathers and annotates, as in an archaeological dig, 60 tons of building stones from the remains of Palestinian and Israeli houses to build a deceptively simple structure.
We also stopped by the Darling Foundry, where Jana Sterbak (known for her legendary meat dress) was showing a video, Waiting for High Water (2005), that is very similar to one she showed at the Canadian pavilion at the Venice Biennale in 2003.

Jana Sterbak, Waiting for High Water, installation vidéo, 2005. Photo: Guy L'Heureux/fonderiedarling.org
We liked this on MUCH better. The video is shot by three cameras strapped to the back of a Jack Russel terrier as he navigates the rising tides of Venice, but it's not about the dog. The motion and soundtrack and three screen installation made the work quite mesmerizing.

Jana Sterbak's legendary meat dress, Vanitas: Flesh Dress for an Albino Anorectic (1987).
Image: makefive.com
Also at the Darling Foundry, Rhonda Weppler & Trevor Mahovsky made a newspaper landscape, with large rocks that was pretty forgettable.
Last, we saw Speed Limits at the Canadian Centre for Architecture, which is always one of the best reasons to visit Montreal.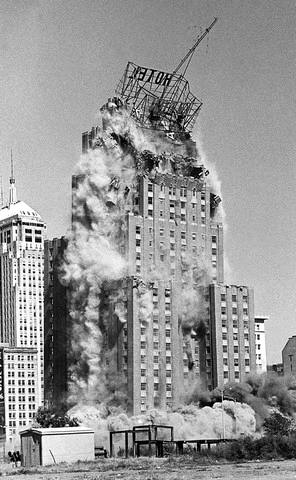 A collapsing building, like the many videos on view at the CCA. Image: dnjournal.com
The exhibition is a timely look at what role speed plays in modern life (modern as in from the mid 1800s to today!) From art to architecture and urbanism to graphics and design to economics…the need for speed has enormous implications for our culture.