This fall in Montreal and Toronto sees a new exhibition at DHC/ART in Montreal, the legendary art critic Hal Foster at OCAD in Toronto, and the Ten Commandments at the ROM in Toronto.
Ten Commandments: A Fragment
Saturday, October 10 to Sunday, October 18, 2009
The Royal Ontario Museum, Toronto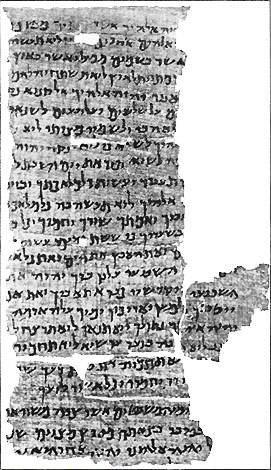 A fragment of the Ten Commandments. Image: cogwriter.com
As part of the ROM's excellent exhibition Dead Sea Scrolls: Words that Changed the World, which is on view through January 3, 2010, for one week only in October (due to its sensitivity to light and humidity), the ROM will showcase a fragment of one of our oldest copies of the text of the Ten Commandments.
The displayed Scroll contains the text of the Ten Commandments from Deuteronomy 5 and is the best preserved of all the Deuteronomy manuscripts discovered. A biblical scroll, it is written in Hebrew and dated to ca. 30 – 1 BCE.
It was discovered in 1952 in Cave 4 near the site of Khirbet Qumran. Due to its small size and because the verses from Deuteronomy 8 appear in the Scroll before those from chapter 5, it is thought that this Scroll may have been used in prayer and is not a portion of the entire biblical book of Deuteronomy.
The text of the Ten Commandments on the Scroll is longer than what is found in traditional Bibles, and quotes both biblical versions of the Sabbath commandment (Exodus 20:11 and Deuteronomy 5:15) instructing the Israelites to observe the Sabbath as a remembrance of their rescue from slavery in Egypt and of God's rest on the seventh day of creation.
For more info, please click HERE
Nomadic Resident: Hal Foster
November 2 – 6, 2009
The Ontario College of Art & Design, Toronto

Hal Foster. Image: princeton.edu
Widely considered one of postmodernism's founding theorists, Foster has participated urgently in the critical and historical investigation of avant-garde art for almost thirty years, producing a body of writing that has informed the practices of many contemporary artists. Hal Foster is the Townsend Martin 1917 Professor and Chair, Art & Archaeology, at Princeton University, where he teaches modernist and contemporary art and theory and the graduate proseminar in methodology.
Foster's visit as the next Nomadic Resident will provide students, faculty and the public with an important opportunity for a searching discussion of new ideas, and the chance to revisit and explore old ones.
NOTE: Public lecture
"How To Survive Civilization, Or What Dada Can Still Teach Us"
Tuesday, November 3, 7:30 p.m.
For more info, please click HERE
DHC SESSION: Living Time with Tehching Hsieh and Guido van der Werve
October 16 – 22 November, 2009
DHC/ART Foundation, Montreal
Taiwanese-American performance artist Tehching Hsieh and young Dutch artist, Guido van der Werve launch DHC's new programming initiative that includes an exhibition, evening event series and in-gallery reading lounge and education project.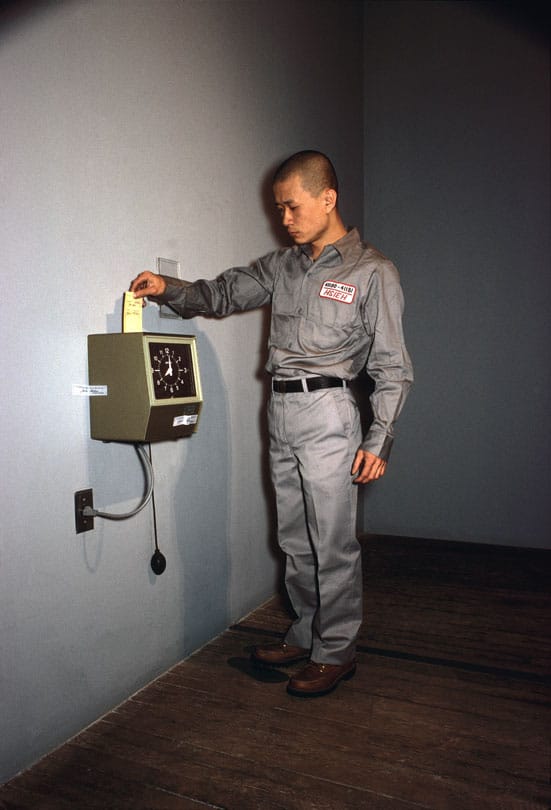 Tehching Hsieh, One Year Performance 1980-81. Image: artvehicle.com
Living Time presents a selection of documentation from two of Tehching Hsieh's life and art-melding One Year Performances. In One Year Performance 1980-1981, the artist, dressed in a pale grey worker uniform, punches a time clock in his studio every hour on the hour for one year. Uncannily reminiscent of the work In and Out by the great Canadian artist Kelly Mark, which is an ongoing life-long project that will continue to the age of 65 or until Mark dies. Since 1997 she has been punching in and out of the studio with an old time clock.

Kelly Mark, In & Out – 1997 ongoing until 2032. Image: ireallyshould.com
For Kelly Mark's website, please click HERE.
For Hsieh's website, please click HERE.
The exhibition also includes two films by Guido van der Werve. In nummer acht : everything is going to be alright, 2007, the artist films himself walking slowly across the ice-covered Bothnian Gulf of Finland followed by an enormous icebreaker. And in nummer negen, : the day I didn't turn with the world, 2007, the time-lapse photography shows the artist standing at the North Pole for 24 hours and turning against time.
Click HERE for van der Werve's website.