Here are some things I suggest checking out, if you can.
Montreal art duo Maryse Larivière and Robin Simpson of Pavilion Projects regularly host art-plus-dinner series, and in a few weeks they will bring the series to Toronto with a screening by the artist Rosa Barba's 2007 film Outwardly from Earth's Centre.

Rosa Barba, a still from Outwardly from Earth's Center. Image: carliergebauer.com
The film tells the story of a fictitious society founded on an unstable piece of land in danger of disappearing, and the dinner will be held at the very arty Oddfellows restaurant.
The evening includes a presentation by curator Catherine Dean followed by a prix fixe three-course menu for $45 involving shredded duck confit, pan roasted sea bream and Pork loin with whiskey maple baby carrots.
Mmmm.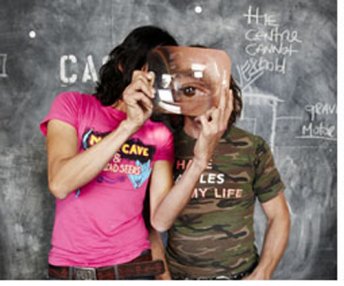 The guys behind Castor, Brian Richer and Kei Ng. Image: egodesign.ca
Oddfellows is run by the guys from Castor, the superhip Canadian furniture design company (recently featured in iD magazine's 40 Bright Young International Designers.)

Castor's Recycled Tube Light. Image: designerfriend.com
Oddfellows, 936 Queen Street West, Toronto
November 25th, 2009
7pm
Menu prix fixe $45
Reservations: rsvp@pavilionprojects.com / 519-760-0913

Meanwhile, in Winnipeg, the U of M's Gallery One One One is presenting a portable archive of all 27 years of Winnipeg's great Border Crossings magazine's history.

The BorderCrossings Study Centre, or Canadian Art History in a Box. Image: umanitoba.ca
Designed by 3 Winnipeg architects as a storage/reading unit, the archive, which is called BorderCrossings Study Centre (BCSC), will be on view at the gallery all year.
Canada tends to be far too removed from our own cultural history, so this would be a perfect chance to sit back and flip through the archives. Of course, if you don't live near Winnipeg (and how many of us do) why not pull yourself away from your computer and spend a day at your local library magazine archives?

The current issue. Image: canadianmags.blogspot.com
The opening reception for Part Two of the BorderCrossings Study Centre will happen on Wednesday, 18 November, 5-8 PM.