Here is the final part of an article written by former Winnipegger Edwin Janzen, an artist and writer currently based in Ottawa. The article was previously published in Drain magazine – you can read the full article, HERE, (under Related Essays) or click HERE for last week's post on VoCA.

Roger Crait, Untitled, 2009. Image: umanitoba.ca
The Power of Myth
How Did Winnipeg and Its Art Become such a Big Deal?
By Edwin Janzen
The City Behind the Myth
Winnipeg artists — and the city as a whole — owe much to the considerable efforts of these influential "fixers." For the representation of Winnipeg as a sort of mythic art mecca has surely been a good thing, hasn't it? Winnipeg and its artists are receiving more attention than ever before, so can the repackaging of Winnipeg as a geographically and creatively charged nexus be anything else than an unmitigated good? If life gives you lemons….
Add as much sugar as you like, however, lemonade always tastes at least a little sour. Here's my sour point: In a city widely known as the "Aboriginal Capital of Canada" — a 2006 census put the indigenous population at 68,380, representing a 22-per-cent growth over the previous five years — why are no Aboriginal artists featured in the Winnipeg issue of Border Crossings? No KC Adams, no Darryl Nepinak, no Roger Crait, no Urban Shaman Gallery. I'm not saying that Border Crossings needs to observe some sort of editorial form of affirmative action (neither am I saying it doesn't), but the omission is actually somewhat surprising, given that Border Crossings has a reputation for supporting Aboriginal art. So, the question needs to be posed: In what mental world or mode is it possible to edit a "Winnipeg issue" of a major fine-art magazine and not feature Aboriginal artists?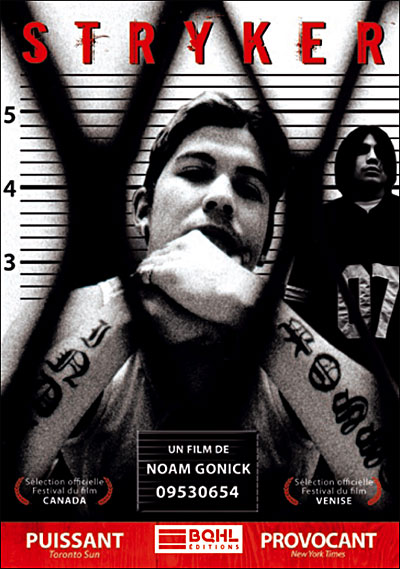 Noam Gonick's film Stryker. Image: fnac.com
Only a few non-Aboriginal Winnipeg artists take on Aboriginal issues — Noam Gonick's film Stryker comes to mind, as does some of Simon Hughes' work. Aboriginal people make a strange appearance in Maddin's My Winnipeg: The popular Happyland amusement park, destroyed by rampaging bison, is relocated on the city's rooftops by homeless Aboriginal people: an Aboriginal happyland in the sky. What's strange is that Winnipeg's Aboriginal population was tiny at the time in which Maddin's scene appears to be set. In a sense, though, Maddin has produced a potent metaphor for white Winnipeg's median attitude toward Aboriginal people and their history: It's just easier not to know. To the rooftops with it!
In the real Winnipeg, in 1951, Winnipeg had only 210 Aboriginal people, a number that grew to 1,082 by 1961, 4,940 by 1971, 16,575 by 1981, 35,150 by 1991, 55,755 by 2001 and 68,380 by 2006, according to Canadian census statistics. By 2020, the population may exceed 100,000.

Norval Morrisseau, Shaman's Ride. Image: thebucketshop.com
The in-migration of Aboriginal people to western Canadian cities was related to the lack of opportunity on rural reserves. This internal migrant labour force unfortunately arrived at the same time as secure, industrial jobs were being replaced by insecure, low-wage, service-sector jobs. Taken together with the fact that rural Aboriginal people were totally unprepared for the challenges of urban life — and with the fact of white racism — Winnipeg's Aboriginal population suffered from racialized poverty and a lack of opportunity.
Aboriginal people resisted this situation by organizing their own institutions, beginning with the Indian-Métis Friendship Centre (IMFC). As Canadian Centre for Policy Alternatives researcher Jim Silver has documented, from humble beginnings, Winnipeg's Aboriginal community-based organizations now number in the dozens, addressing a galaxy of needs including education, justice and political lobbying, addiction treatment, child and family services, political advocacy, and much more. Owing in large part to the city's media, which unprofessionally choose to offer Winnipeggers a highly distorted image of Aboriginal people, most Winnipeggers don't know anything about this incredible history of self-organizing.

Norval Morrisseau, Family Passing on Legends. Image: eartfair.com
Further, most artists don't understand that Winnipeg's Urban Shaman Gallery, the Aboriginal artist-run centre, represents part of this history. From the 1960s onward, Aboriginal artists like Norval Morrisseau, Jackson Beardy and Daphne Odjig began drawing attention to Aboriginal art in Manitoba. But it wasn't until the 1990s, when artist Louis Ogemah identified the absence of any organization devoted to representation of Aboriginal arts, that Urban Shaman was born. For Aboriginal artists in Winnipeg, the ability to make and exhibit art is part of a larger, truly incredible struggle to reclaim Aboriginal identity.

Guy Maddin, Winnipeg Sleepwalks, 2006, preparatory collage for My Winnipeg. Image: bombsite.com
Maddin's My Winnipeg is a brilliant film — and so is much of the work produced by non-Aboriginal Winnipeg artists. But I can't help but wonder what My Winnipeg would have been like had it been made by an Aboriginal filmmaker.
Earlier this year, Steven Loft, the National Gallery of Canada's first Aboriginal curator-in-residence, delivered an artist talk at the University of Ottawa's Department of Visual Arts, in which he discussed the significant advances made by Aboriginal artists in Canada. "In many ways, Winnipeg is the future," Loft told me later during a studio visit. He was referring both to the ongoing Winnipeg Aboriginal population explosion, and to this aforementioned genius in self-organizing. This process is perhaps most advanced in Winnipeg, but it will follow elsewhere.

Rebecca Belmore's excellent performance art piece Ayem-ee-aawach Ooma-mowan: Speaking to the Mother.
Image: eciad.ca. Click HERE for more on this piece.
Apartheid of the Mind
This article isn't about assigning blame to Border Crossings, because Border Crossings is not (by itself) blameworthy and has often published work on Aboriginal art. But I would observe that mainstream, especially white Winnipeg artists and Aboriginal Winnipeg artists are engaged in very different projects — a difference even progressive non-Aboriginal Winnipeggers, many of whom remain still affected by a sort of "apartheid of the mind," easily overlook.
This is the flipside of the Winnipeg myth that no one talks about. While white artists are engaged in building civic mythologies, Aboriginal artists and curators are reclaiming their culture — often in spite of white mythologies (not the least of which being the myth that Winnipeg isn't built on stolen land) — and in doing so have been building a real Winnipeg, brick by brick, organization by organization. It's a Winnipeg that will be their own — rightly — very soon: the political offices, the businesses, the police, the professions and, indeed, the galleries.
An earlier version of this article was previously published in Drain (www.drainmag.com).