You may remember the British artist Michael Landy from his piece Break Down, in which he destroyed all of his 7, 226 belongings, including his passport.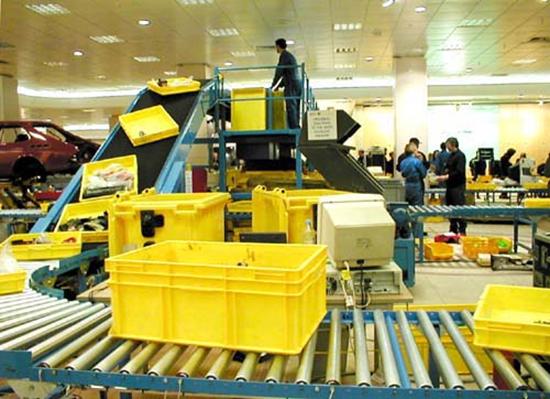 Michael Landy's Break Down, 2001. Image: artcornwall.org
It was a project for Artangel and took place in a vacant shop on Oxford Street, in central London. Needless to say, it was a pretty controversial – but fascinating – piece.

Michael Landy, Art Bin, 2010. Image: saatchi-gallery.co.uk.
Art Bin, Landy's new show that is on from January 29 to 14 March, 2010 at the South London Gallery, is a bit different. Landy has constructed an enormous garbage bin that takes us almost the entire gallery. He is offering to trash your art, so to speak. But not just anyone can come to dispose of their art. Landy is the 'curator' if you can call it that, of the bin.
Read what the BBC had to say, and watch their video, HERE.

Damien Hirst, For the Love of God, Laugh, a screenprint. Image: gowlangsfordgallery.co.nz
It's almost an inverse art exhibit. Instead of choosing the 'good', he's choosing the rubbish.
More on that in the Guardian, HERE.
Incidentally, Damien Hirst has contributed three of his skull paintings, which took a trashing from critics when they were unveiled last year.