From the Toronto Star, Murray Whyte writes about the bicycle art of the late, great artist Greg Curnoe:
"On the wall at Cherry Bomb Coffee on Roncesvalles Ave., a slight, royal-blue CCM track bike with curled handlebars dangles from the wall, held at a sharp angle by a slim cable…"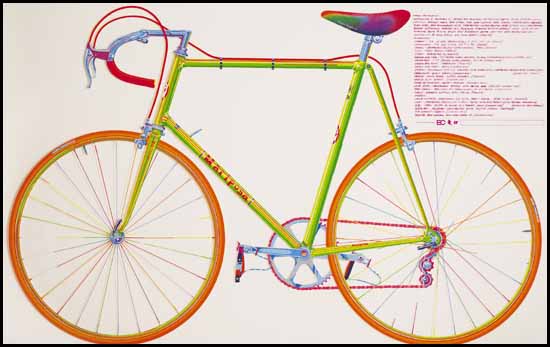 Greg Curnoe, Mariposa T.T., 1978-9. Image: artnet.com
"As an artist, (Curnoe) had achieved a particular kind of celebrity. His work, like his life, was disarmingly vibrant, all filled with bright colour and fuelled by his various passions – cycling, for one, and a cheeky political activism. By the time he died, at age 55, he had carved a uniquely prominent position for himself in Canadian art..."

One of Curnoe's bikes, at Cherry Bomb, in Roncesvalles, Toronto. Image: rene johnston/torontostar.com
Read the full article HERE.