"Maximillian?…No, Maximultimillion" is the response attributed to Lord Beaverbrook, a.k.a Max Aitken, when he was once asked his name.  It gives you a sense of the grandeur with which the Canadian media baron must have swirled about London social circles in the early 20th century.

Lord Beaverbrook. Image: photobucket.com
I noticed, the other day in the Art Newspaper, THIS article about how the UK-based Beaverbrook foundation is having to sell Cherkley Court, the former home of Lord Beaverbrook, for whom the Beaverbrook Art Gallery in New Brunswick, is named.

Cherkley Court, in England. Image: exclusiveheritageavenues.com
As you probably know, the Foundation and the gallery have long been locked in a bitter dispute over which paintings belong to whom, and the Foundation needs the money from the sale of Cherkley Court to pay its legal bills. Read more about the ongoing battle, HERE.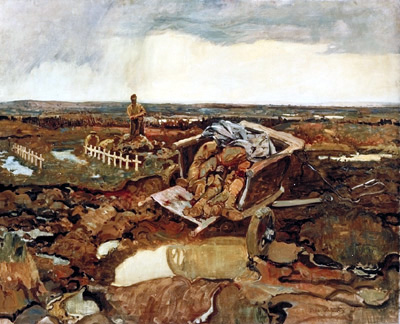 For What? One of Frederick Varley's excellent war paintings, made in 1918 while with the CWMF. Image: warmuseum.ca
While reading an advance copy of Ross King upcoming book Defiant Spirits, about the Group of Seven, I discovered that in 1916, Lord Beaverbrook founded the Canadian War Records Office and the War Memorials Fund, through which many of the Group – A.Y. Jackson, Frederick Varley, and Arthur Lismer – were commissioned to record the war.

The brilliant novelist Evelyn Waugh. Image: blogs.guardian.co.uk

Evelyn Waugh's Scoop. Image: finebooksmagazine.com
I also discovered that as owner of the British papers the Daily Express, the Sunday Express and the Evening Standard, Beaverbrook employed the novelist Evelyn Waugh (one of my favorites) and then lampooned him in one of my favorite films, Scoop, as Lord Copper and as Lord Monomark in both Put Out More Flags and Vile Bodies.
A note: I also found out, in Ross King's book, that former Prime Minister Mackenzie King loathed the work of the Group of Seven – he thought they were far too outlandish, despite their desire to create a Canadian style of painting.  Plus ca change…