By now it's all over the web. The story began when Anishnaabe artist Rebecca Belmore yelled "I quit!" after a performance outside the VAG in Vancouver last Saturday titled WORTH (–statement of Defence), leading many in the art world to think that she may well do just that, frustrated as she is by an ongoing legal battle with her Toronto dealer, Pari Nadimi.

Rebecca Belmore, View of the Artist and Truck, 2009. Image: canadianart.ca
According to a press release, the performance "demonstrates the artist's public commitment to vigorously defending herself, her art practice and more broadly, the rights of all artists against those who seek to exploit them."
Watch the performance on YouTube HERE.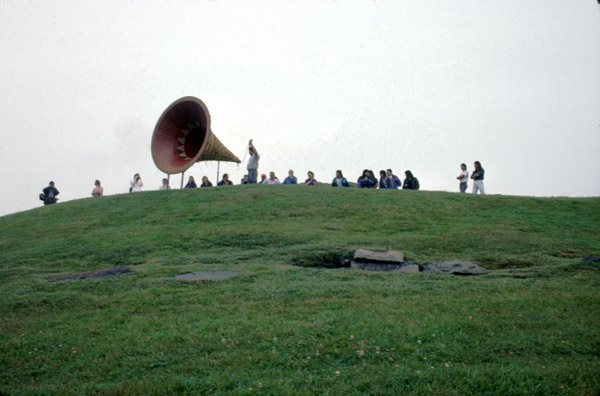 Rebecca Belmore, Ayem-ee-aawach Ooma-mowan: Speaking to the Mother, 1991-6. Image: digitalmediatree.com
The Globe and Mail has an informative article, HERE, which quotes lawyer and Belmore acquaintance Paul Bain as saying that he doesn't think she'll actually quit. "I think she was feeling powerless and frustrated. Staging a performance was the best way for her to vent and get some points across."

Another view of the megaphone performance. Image: rebeccabelmore.com
The suit is over alleged breach of contract, when Ms. Belmore decided to leave the gallery in 2004.From the Globe: "Ms. Nadimi alleges breach of contract in Ms. Belmore's decision to leave the gallery, and wrongful interference: The statement of claim alleges Ms. Belmore stopped a sale of her work Megaphone to the National Gallery, which was "embarrassing to the Art Gallery, damaging to Ms. Nadimi's professional reputation and caused her significant mental distress."

Rebecca Belmore, Fountain, 2005. Image: conundrumonline.org
Belmore is known for her installation at the 2005 Venice Biennale, where she represented Canada with a video Fountain, in which she splashed around in some water before throwing a bucket of what turns out to be blood, at the camera. The piece was not her best, in my opinion, though the curtain of blood/water dripping down the camera lens was a neat touch.
It's a shame that Megaphone – what I regard as Belmore's most touching and significant work, with the related performance – should be the object of such a dispute. Belmore has established the Rebecca Belmore Legal Fund, which has a Facebook page. You can access that HERE. She is asking for your help. Find out more about that by going to THIS website, which may be locked. Alternatively, email rebeccabelmorelegalfund@shaw.ca.
What are your thoughts on this?  Should artists have the right to step in and stop sales that the dealer works hard to accomplish?  At what point does the artist relinquish control of their work to a dealer? Once the work is with a dealer, how to best avoid differences of opinion?