Did you know that Winnipeg is the 'Culture Capital for Canada 2010'?
It was named so by Heritage Canada, though Winnipeg has long known it had special status as an art city.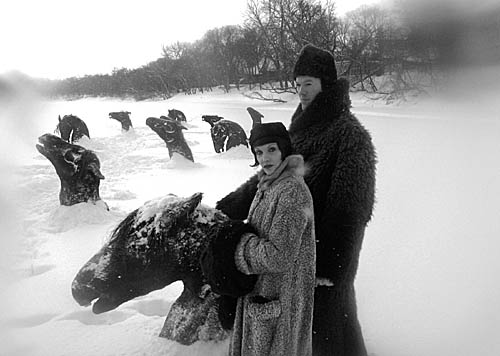 A still from Winnipeg filmmaker Guy Maddin's wonderful, bizarre film My Winnipeg. Image: tribute.ca
And it's clear, if you visit and hang out with the arts community – they are, perhaps by necessity, an enviably close-knit group.
The city got money to fund Arts for All, a year and a half of cultural programming, the latest of which will see a three-day symposium (November 4 – 7) titled My City's Still Breathing, that "debates the current and future relationships of art and design to city-making." The title comes from the lyrics of The Weakerthans song Left and Leaving, by the way. And, filmmaker John Waters is going to speak.
There's a blog for the event HERE.

Brian Jungen, Carapace, 2009. Image: lostateminor.com
Also coming up as part of Arts for All, from January 20 – May 20, 2011 is an exhibition that will showcase aboriginal art from around the world. Curated by a team comprised of Jenny Western, Candice Hopkins, Steven Loft (a curator with chutzpah, apparently) and Lee-Ann Martin, the show will feature work by well-known Canadian artists including Rebecca Belmore, Brian Jungen and Kent Monkman, but also lesser known names like Sámi filmmaker Paul-Anders Simma.
The exhibition will be held at a number of sites around town, including Plug-In Institute of Contemporary Art and other venues noted HERE.

Michel de Broin's Monument, 2009, possibly the best public art piece – so far – in Winnipeg. Image: Denis Brieur/VoCA.
The largest public art piece ever in Winnipeg – a $575,000 sculpture – will also soon grace the city, thanks to a partnership between the Winnipeg Arts Council Public Art Program and the Winnipeg Cultural Capital of Canada 2010 project. The public art piece (the winner has yet to be determined) will feature elements of water and light, and is intended to celebrate the arts in Winnipeg. It will reside at the Millennium Library Park.
Which is nice, but will it beat THIS one?
More on the entire project, at their website HERE.