It's good to hear that designers – and design curators – seem to finally be thinking more in terms of what we need, rather than just what we may want.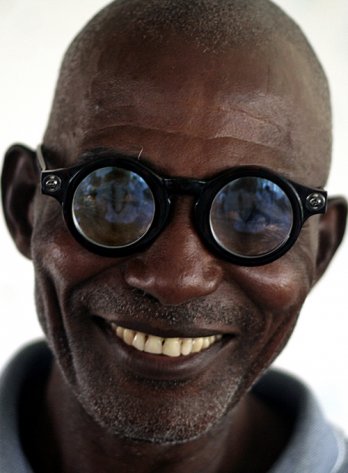 Adaptive Eyeglasses. Joshua Silver (British, b. 1946), Adaptive Eyecare Ltd. and Oxford Centre for Vision in the Developing World_CVDW. Image: egodesign.ca
Now that the extreme overload of commodities in the world has reached the point of Freeganism, a reconsideration of design is long past due. Of course, that's what we've all been saying for years, and it's what Bruce Mau was arguing in his brilliant, if awkwardly curated, exhibition Massive Change at the AGO a few years ago.

The book that accompanied the exhibition. Image: brokencitylab.org
As Tim McKeough notes in his review of the Cooper-Hewitt's Design Triennale Why Design Now? in the Walrus, the exhibition "questions the very purpose of design. Is its role in contemporary society to sculpt a more stylish toothbrush, or to do something more meaningful?"

Samarth Bicycle Trailer, prototype. Radhika Bhalla (Indian, b. 1983). Designed United States, deployed India, 2008–present. Locally sourced bamboo, rattan, iron, jute, coconut fiber, wheels_Vahe D'Ala. Image: egodesign.ca
Read the full article HERE.
Some argue that design shouldn't move too far from aesthetics toward functionality, but shouldn't design be redefined entirely?When we know that design is a tool that can solve problems and alleviate hardships for many, many people (like the brilliant Architecture for Humanity does) is it the duty of designers to utilize it that way? What about designing environmentally sustainable products? For how long can designers continue re-inventing the chair? (And where do consumers, design retailers and design schools fit into all of this? Not to mention designers like Patty Johnson?, whose work with aboriginal, and other communities help them to create product collections that are then shown at international design fairs.
More info on the exhibition at egodesign.ca, HERE and at the Cooper-Hewitt's website, HERE.