I wanted to do a blog post about contemporary dance, partly because I love dance and see a lot of it in Toronto.

The water scene in Un peu de tendresse, bordel de merde. Image: accel21.com
But also, because the other night I saw Montreal choreographer Dave St. Pierre's company performe Un peu de tendress bordel de merde, the second in a triology whose most significant characteristic is that most of the performers are stark naked.

The 'corps de ballet' from Un peu de tendresse. Image: artandculture.com
Actually, it's not the most significant characteristic. I was reminded of orgiastic paintings from 17th century Europe, like Rubens' Massacre of the Innocents, which is in the Art Gallery of Ontario. The show had other interesting artistic references and some genuinely touching moments.

Peter Paul Rubens, The Massacre of the Innocents, c. 16111-12. Image: theartwolf.com
My favorite was when the performers, each semi-clothed and holding large bottles of water, slowly bent over backwards, pouring the water over their heads onto the stage floor. Then they stripped down and frolicked in the pools of water like babies. More info on the show HERE.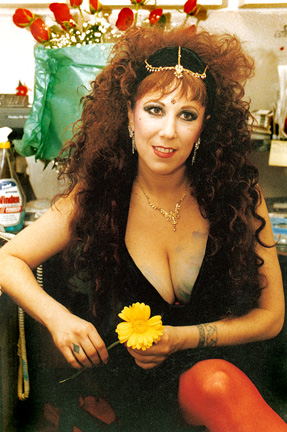 Annie Sprinkle. Image: arteinformado.com
Speaking of Montreal – centre of contemporary dance in Canada, it seems – I had no idea, that for the past 17 years, Montreal had been holding an annual festival dedicated to "the complexity of contemporary feminism."
The self-described "centre for research in dance and interdisciplinary practices," Studio 303 in Montreal (where else?) organizes the EDGY WOMEN festival, which is now an international festival with such big names – this year – as legendary feminist/porn star Annie Sprinkle (who, funnily enough, I saw perform in the early 90s in New York. I sat beside the late, rather dusty Quentin Crisp.)

Mia Star van Leeuwen. Image: outoflinetheatre.com
This year, the festival will run from March 19 to April 2nd and host performers from Japan, Germany, the United States and Canada.
I adore the mandate of the festival: 'to stimulate critical thought, nurture innovative creation and highlight the important body of work being made by women working outside traditional venues and disciplines (i.e.practices and perspectives that push boundaries in terms of form and content.)
Highlights from this year's program include works by Winnipeg performer Mia Star van Leeuwen – who has starred in productions by Guy Maddin.
Also – Amalie Atkins from Calgary and Vancouver artist Julianna Barabas, who had a line tatooed around the circumference of her body. And HERE 's a funny video by Laura Margita from Saskatoon.
For more info on the festival, please click HERE.