So, Vancouver artist Steven Shearer will represent Canada at this year's Venice Biennale, which opens June 4 and continues until November 27, 2011.

Steven Shearer, Nash, 2005. Image: museomadre.it
Torontonians might recall an exhibition of Shearer's work at the Power Plant in 2007, which I believe was curated by former Power Plant curator Helena Reckitt (now critic/curator in residence at the University of Victoria in Wellington, New Zealand).
So what might visitors to Canada's pavilion expect to see?
Shearer is going to build a nine-metre high, free-standing mural that will act as a false front for the rather dimminuitive Canadian pavilion, bringing it up to the scale of the surrounding British, German and French pavilions. I've always thought it strange that our pavilion was designed by an Italian architect. It's embarrassing as its size next to the others (it was built in 1958) insinuates Canada's place as 'only' a colony.
More, after the jump…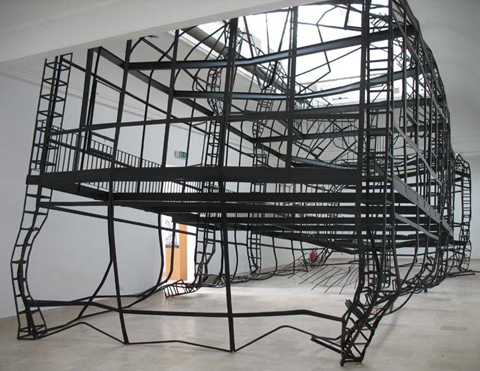 Monika Sosnowska: 1:1 in the Polish Pavilion at the 2007 Venice Biennale. Image: artnet.com
So, I think building a facade of sorts is a marvellous idea. It's clear that the notion of national pavilion is incredibly outdated, particularly as so many countries are left out entirely. I always prefer when pavilion artists address this issue, as Monika Sosnowska did in at the Polish pavilion in 2007, with her wonderful piece 1:1, rather than ignoring the elephant in the room.
The mural will feature a poem by Shearer and will be connected to the pavilion by a kind of tool-shed (how Canadian).

Steven Shearer The Fauves 2008–9. Image: canadianart.ca
Inside, visitors will find paintings, drawings and sculptures that reference both the richness of historical painting (the Expressionists, the Fauves) and a theme of social alienation as experiences by much of today's youth. This is Shearer's signature theme. He uses the vocabulary of death metal music, and the accompanying styles of dress and expression that convey this alienation to pretty interesting effect, coming at it from a number of perspectives, the whole of which is more important, to my eye, than any single element.

Some pretty cool looking death metal logos. Image: worleygig.com
It doesn't sound like it will be too much of a technical challenge compared to past years. The biggest challenge for Canada's curators is generally raising money for the exhibition. Last year, we heard it was tough going for curator Barbara Fischer with Mark Lewis' show. This year, the pavilion will be curated by National Gallery of Canada curator Josée Drouin-Brisebois, and is supported by the National Gallery of Canada, the Canada Council and private and corporate philanthropy.
Here's hoping they can pull of quality show. From the sounds of what they are planning, it's looking good.