Have you seen Beyonce's new video Who Run the World (Girls)? I havent' been able to get it out of my mind. Check it out HERE.

A promo image for Beyonce's new video Run the World (Girls). Image: cdn.idolator.com
While pro-women statements have been popular in pop music for a while, (the Spice Girls and Girl Power wasn't so long ago) with Beyonce's video I sense an attitude of female fierceness that I haven't noticed in mainstream pop before. It made me wonder what 'Girl Power' has turned into, and what its eventual impact might be. Feminist writers – like Susan Hopkins in Girl Heroes: The New Force in Popular Culture – have in recent years been identifying and deconstructing the links between 'Girl Power' and the notion of the female warrior.

Beyonce in a still from the video. Image: comewatchme.com
Indeed, Bey opens the video dressed as a warrior princess, complete with headdress. She's blonde, and her female army wears chiffon harem pants, stockings and garters (so still sexy, then.) The video is a mash up of styling from Beyonce's own  McQueen dresses to moves inspired by African and Irish dancing, among others. And she's got two henchmen who look like they momentarily stepped away from their Nigerian tribe. But rather than striking defensive poses or appearing as a sullen victim, she and her female army appear to dominate men.
The demeanor and expressions throughout suggest an alarming aggression coming from the women, one that leaves men (in riot gear, no less) literally in the dust. But the lyrics – unsurprisingly, perhaps – seem slightly confused, and at odds with the video:
Boy you know you love it (TEASING)
How we're smart enough to make these millions (ASSERTIVE)
Strong enough to bare [sic] the children (ASSERTIVE)
Then get back to business (ASSERTIVE)
See, you better not play me (THREATENING)
Don't come here baby (OBSTRUCTING)
Hope you still like me (NEEDY)
If you hate me!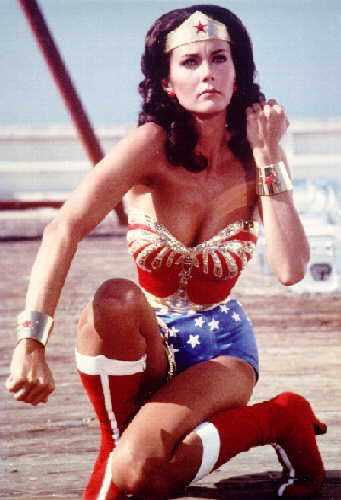 The original, of my generation at least. Image: grudge-match.com
Is this aggressive posturing another sign of the Fourth Wave of feminism? I see this as a new kind of 'Girl Power', one that embraces the ethos of Riot Grrl and brings it mainstream, one whose aggressive anti-male attitude is practically at par with the male rapper's misogyny. Again, Beyonce was careful not to offend with the lyrics, but the look on her face and the choreography belie the song's real intention. It's probably only a matter of time before some pop star comes along and pushes the idea further.
The message here is that girls will run the world, and will do so on their own terms and they don't need men to do it.
I wonder if that's a good message for them to hear.