A quick note to say that I feel sort of vindicated. Back in March 2010, I wrote THIS post predicting the rise of International Klein Blue – that fabulous deep blue invented and patented by the late, great artist Yves Klein.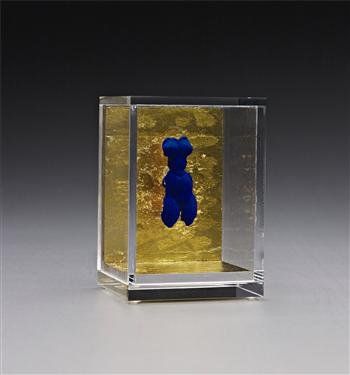 Yves Klein, Petite Vénus Bleue, 1956 Image: canalblog.com
And so it went…that bright blue was suddenly everywhere from J.Crew catalogues to Uma Thurman at the Oscars. It even showed up in a stunning piece at the AGO retrospective of General Idea.

General Idea, XXX (bleu) (installation view) 1984 3 acrylic on canvases, 3 poodles. Image: theglobeandmail.com
And now, Newsweek/Daily Beast art critic Blake Gopnik has singled it out at the recent Art Basel Miami Beach:
"The booth had a classic all-blue Yves Klein, from 1960, that I could not live without. It had been inscribed as a gift from Klein to Antonio Saura, the Spanish painter, and was signed and dated and had had few owners. Klein is undergoing a massive reevaluation these days: Instead of being seen as a consummate colorist, his role as godfather of conceptualism is at last being noticed. The picture was a steal at $1.4 million."

Uma Thurman,looking stunning at the Oscars. Image: stylenik.com
Did you know that you can buy the paint – Yves Klein patented the colour – in Switzerland? It's not cheap. But it's beyond any other colour you will paint with – in fact the only colours that can possibly accompany it are white, or gold leaf. As he knew very well, IKB and gold is a heavenly combination.
I'd love to meet the guy who ordered the IKB bespoke suit.
Read Gopnik's full article on ABMB, HERE.